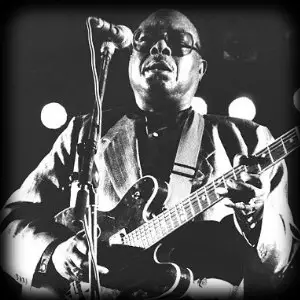 Muddy Waters' searing slide-guitar work is seen as the cornerstone of Chicago's electric Blues tradition, but the precise and sympathetic chord patterns of Jimmy Rogers' 'second' guitar features on all the great Chess recordings too. As Muddy's right-hand man; as part of the Chess house-band; and as a singer and bandleader in his own right, Jimmy made a huge contribution to the 'Golden Age' of Chicago Blues. He was also generous in passing on his expertise to new generations of modern Blues players.

James A Lane was born in Ruleville MS in 1924, but his family were pretty footloose, so Jimmy grew up in Atlanta, St. Louis and Memphis among other places. Taking his stepfather's name of Rogers, Jimmy played harp around the local bars and juke-joints as a teenager and, when he relocated to Chicago in the early 40s, he teamed up with guitarist Blue Smitty. The young Muddy Waters would also play with Smitty, and when he brought
Little Walter
to the party, Jimmy switched to guitar. Jimmy, Muddy, Walter and drummer
'Baby Face' Leroy
gained a reputation in the South-side clubs as 'The Headhunters'. They were never billed as a band, but the guys would wait in a club until the main band went for a break, then storm the stage and 'cut their heads off' with some blistering Blues playing. Jimmy made his recording debut with
Memphis Slim
in 1946, and the following year his smooth voice and stylish guitar work got him noticed, recording several tracks for the Ora-nelle and Regal labels, but without much success.
Leonard Chess
saw Jimmy's potential and signed him as a solo artist, but when he played on Muddy's 1949 recordings for Aristocrat, their guitars meshed perfectly and a classic partnership was formed.
'Where's My Woman Been', from September 1949;
Jimmy was an important member of the Chess house-band, and was Muddy's indispensable 'second' guitar for many years, but he also maintained his solo career. His 1950 debut for the Chess label, 'That's All Right', became a standard, and others like 'Back Door Friend', 'Sloppy Drunk' and 'Chicago Bound' encouraged Jimmy to leave Muddy and front his own band. He also found plenty of work as a session musician, playing on
T-Bone Walker
's 'Why Not?' and borrowing the tune for his own 'Walkin' By Myself' which did well in the R&B charts. This record has a blistering harp solo that made the reputation of 'Big Walter' a.k.a.
'Shakey' Horton
, who was a last minute stand-in for the 'studio-shy'
Good Rockin' Charles
. By the end of the 50s, even high-quality up-tempo Blues records like Jimmy's 'Rock This House' were not selling in big numbers, so Jimmy retired from music to raise a family and start a clothing business.
Jimmy and 'Shakey' perform 'Golden Tailed Bird';
After ten years away from the studio, Jimmy cut the fantastic 'Golden Tailed Bird' album for Leon Russell's Shelter label in 1972, with contributions from
Freddie King
and legendary Chicago backing band
The Aces
. He followed it up with 'Sloppy Drunk', which had
Willie Mabon
on piano, and played on several American Blues Festival tours of Europe in the 70s, adding to his reputation as a singer rather than 'just' Muddy's side-kick. A new generation of Blues stars worked with Jimmy in the 80s, notably harp players Rod Piazza,
Carey Bell
and
Kim Wilson
, and with guitarist
Ronnie Earl
and
Chuck Berry
's pianist
Johnnie Johnson
in the 90s. Jimmy's 'swan-song' came with his 1998 album 'Blues, Blues, Blues' with
Jagger/Richards
, Page/Plant,
Clapton
,
Taj Mahal
,
Jeff Healey
and many more who wanted to pay homage to a Bluesman who made an indelible mark on the music. Sadly, it was to be a posthumous release, as Jimmy passed away just before Xmas 1997.