GEORGE 'Wild Child' BUTLER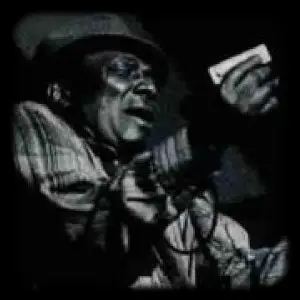 'Wild Child' got his nick-name early in life, as his mother was constantly having to get him out of trouble, and that handle stuck with him. Although George was leading his own band while still in his early 20s, his career in Memphis and Chicago didn't take off, so he relocated to Canada twenty years later and his most productive recordings were done in Britain, late in his life. George was a talented harp player and guitarist with a full, rich-toned voice whose songs arose from his long experience in the Blues.
Born in 1936, probably in Hernando MS. just south of Memphis, George taught himself harp and guitar, and with his big deep voice, he was fronting his own Blues band around the Memphis scene in the late 50s. When he moved to Chicago and signed for Jewel Records in 1966, his prospects as the 'Wild Child' looked good.
Willie Dixon
produced all his tracks, playing bass on many of them, and employing quality side-men like
'Shakey' Horton
,
Jimmy Dawkins
and Cash McCall. Sales were not great, but George picked up some work as a side-man himself, touring and recording with
Lightnin' Hopkins
. He cut an album for Mercury in 1969 and another, 'Funky Butt Lover' in 1976 for the TK label, again without much success, although the second of these re-appeared many years later, with the piano of
Pinetop Perkins
overdubbed, re-titled as 'Lickin' Gravy' on the Rooster Blues imprint.
'Wild Child' appearing on Paul Langan's TV show;
In 1981, George relocated to Windsor Ontario, just across the lake from Detroit, and settled into a life of relentless gigging, leading his band on regular trips south of the border and touring as a harp player with Jimmy Rogers' band. In 1991, Mike Vernon of Blue Horizon Records took George to Britain where they cut an excellent album titled 'These Mean Old Blues, which is full of 'Wild Child's own authentic and insightful songs, and a second fine album, 'Stranger' emerged from further London sessions in 1994. George continued to play harp and sing with an energy and enthusiasm of a much younger man, before he passed away suddenly in 2005 aged 68. A version of Howlin' Wolf's 'Spoonful', which George recorded with Kenny Wayne Shepherd for his '10 Days on the Road' project, was a fine posthumous tribute to the 'Wild Child'.