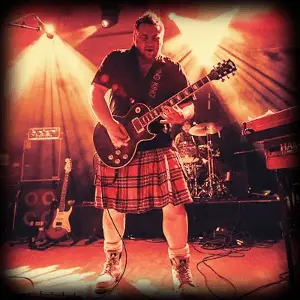 The King King was a famous LA Blues Club that burned to the ground, and a fine album by their house-band The Red Devils, but King King is also the name of a British Blues Rock band that has been building a big reputation on the European club and Festival scene. After taking the Best Band title at the 2014 British Blues Awards for the third consecutive year, they joined the Legendary
John Mayall
on his 80
th
Birthday tour, showing that Blues Rock is in good hands with the up-coming generation. Leader Alan Nimmo has been around for a long while, playing with his brother in Britain, Europe and The States, but alongside this, his 'solo project' is taking our music forward to exciting new places.
Stevie and Alan Nimmo were brought up in a Glasgow family where Dad played in a rock band and Mum was a
Peter Green
fan, so they formed The Blackwater Blues Band in the mid-90s to play classic British Blues-Rock. They cut a self-published album, but then morphed into The Nimmo Brothers, and after some impressive Festival shows they signed for Armadillo Records. They have released six albums since then, and built a strong following in Europe and The States. Performing their acoustic album 'Moon Over Memphis' at the Low Country Bash in 2003 at Charleston SC got them standing ovations, and their most recent album 'Brother to Brother' was recorded in Austin TX in 2012.
We don't normally do this, but here's a whole King King concert recorded for German TV in 2014!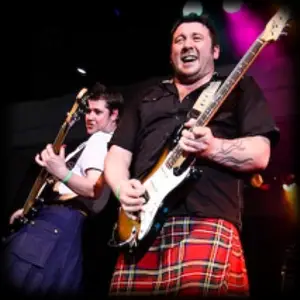 In the mid-noughties, the brothers took up solo projects, and here lies the genesis of King King. Alan took bassist Lindsay Coulson with him and recruited drummer/producer Wayne Proctor and keys-player Bennett Holland, although Bob Fridzema holds that role now. King King's debut at the Monaghan Blues Festival in 2010 was a sensation and their debut album 'Take My Hand' the following year featured a 10 minute version of the Clapton/Cray classic 'Old Love' and picked up the Best British Blues Album Award. 'Standing in the Shadows' in 2013 raised their game as Alan and Lindsay's songwriting gained confidence and it proved a critical and commercial success. Playing the Glastonbury Festival and recording sessions for Paul Jones' Blues Show on the BBC widened their profile, and that tour with Mr. Mayall showed their class.
As a live band, they are unforgettable, not least because the proudly patriotic Scots frontman always wears a kilt! Alan has a remarkable voice and his power as a guitarist might be illustrated by this example: at a theatre gig with 1000 punters, he turned his guitar solo down so low, he played his
Stratocaster
with no amplification at all, and could still be heard on the balcony. Not only did it silence the whoopers and whistlers, the artistry and sensitivity of Alan's playing was literally breathtaking! With their new album 'Reaching for the Light' released on the back of a big European Tour, King King are ready to burst on to the World Stage.