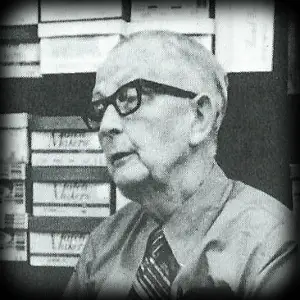 It is a cliché that old-time Blues players got ripped off by their managers, and it's true that some were bullies and monsters who exploited their musicians mercilessly. JB Long was a Carolina businessman who managed some big Piedmont Blues players in their early days, and while he may have helped himself to some publishing rights and fees from recordings, he was also quick to spot their talents, change their names and get their careers kick-started. Music was never much more than a side-line to JB, and his recording missions to New York were usually undertaken during his summer vacations.
In 1934, James Baxter Long was an ambitious 21 year-old manager of the Union Dollar Store in Kinston NC. He got the idea of stocking records to increase his trade, and when several people asked him for 'The Lumberton Wreck' about a nearby fatal railroad tragedy, which had prompted local singers to compose a ballad, he found there was no such record. He quickly arranged a talent contest, with the winner getting to record 'The Wreck' for ARC. Over 1000 people came to his 'fiddlers convention' and The Cauley Family took the honours. The following day, JB held another contest for African-American musicians which was won by a Gospel quartet, Mitchell's Christian Singers, and they all went to New York for the recording session. 'The Lumberton Wreck' sold well locally, but the Mitchells were nationally more popular, going on to a long career in Gospel music and playing the
Spirituals to Swing Concert
at Carnegie Hall, so after that session JB only signed up African-Americans.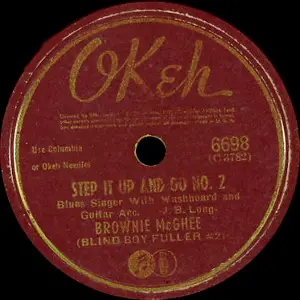 The Piedmont region had a strong tradition of Blues music, with records by Blind Blake, Josh White and Buddy Moss continuing to sell, even during the economic 'depression'. JB noticed this trend and his eye for talent soon fell on Gary Davis and his protegé Fulton Allen who could be found playing for tips outside the tobacco warehouses in Durham, where the successful young store manager had been promoted. He took them along with their washboard player George Washington to New York in the summer of 1935 to record for ARC. He decided to call Fulton 'Blind Boy Fuller' and re-named George 'Bull City Red', and with JB's talent for publicity, Fuller's records sold exceptionally well for the time. JB kept Fuller busy over the next five years, recording 135 titles, but he quarrelled with Gary over money, resulting in the newly ordained Rev. Gary not recording again until he was 'rediscovered' twenty years later in the Folk/Blues revival. Also in 1937, JB took Fuller, Red, Floyd 'Dipper Boy' Council (another of his re-namings) and a young harp player called Saunders Terrell to New York for some sessions, where he was billed as 'Sonny Terry'.
A talented young Tennessee guitarist,
Brownie McGhee
came into Fuller's circle, and when Fuller's health issues caused him to miss some gigs and recording sessions, JB had him sit in. He also arranged for Brownie to make some solo recordings for Okeh in 1940, and when Fuller passed away the next year, Sonny and Brownie cut 'The Death of Blind Boy Fuller' as a tribute. After losing his star attraction, JB persuaded Brownie to perform as 'Blind Boy Fuller II' for a while, but soon he and Sonny decided to relocate to New York, where they found plenty of work in clubs, in stage musicals and eventually as world stars of the Folk/Blues revival. With most of his major music talents gone, JB turned his attention to other business as WWII drew closer. He had been elected mayor of Elon NC in 1939, and went on to serve as a County Commissioner between 1952-1972. He passed away in Elon three years later.