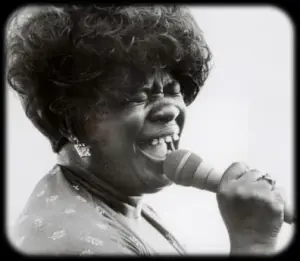 In 1962, Cora Walton was spotted in a Chicago club by Willie Dixon as she sang with her husband, 'Pops' Taylor. When he put Buddy Guy's guitar behind her on his song 'Wang Dang Doodle', a million selling hit on the Chess label was the result, and 'Koko Taylor' had arrived on the scene. Her big, raw vocal style, with hints of Bessie Smith and Big Mama Thornton, led fans to crown her 'The Queen of Chicago Blues'. Further hit records and spectacular shows at the Montreux and Ann Arbor Festivals and her constant touring and recording with her band Blues Machine won her a string of WC Handy Awards. 
In 1988, Koko was in a bad automobile crash which led to the death of her husband 'Pops', and laid her low for two years. She returned in 1990, writing the title track for her 'Jump for Joy' album, and her next effort, Force of Nature featured
Carey Bell
and Buddy Guy. Koko then opened her own club in Chicago, and appeared in two films, Blues Brothers 2000 and Wild at Heart. She continued a relentless schedule of gigging all through her seventies, but she died after surgery in June 2009.
Lovely video of Koko performing 'Wang Dang Doodle' with Little Walter on a European tour;