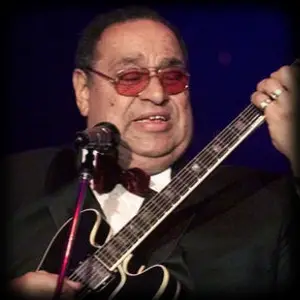 Very few guitarists are credited with changing the sound of popular music, but Mickey Baker's work on countless hit singles in the 50s incorporated the essence of R&B, as he added his hot riffs and turnarounds to some of the most iconic records of the day. His intelligent Jazz/Blues guitar was heard high in the mix on the crossover Rock'n'Roll hits that helped to de-segregate music on the radio, and eventually in the whole country. Chuck Berry and Bo Diddley were big solo stars who were at the fore-front of this process, but Mickey Baker's contribution was perhaps just as great.
MacHouston Baker was born in Louisville KY in 1925, and brought up by a single mother who left him at an orphanage when he was 11 years old. He ran away frequently, being brought back by the authorities from cities like St. Louis, New York and
Chicago
. When he was 16, Mickey settled in New York, hustling pool to make a buck, and eventually he bought a guitar and enrolled in the New York School of Music. Mickey's style was based on his attempt to play bebop on guitar and, when they didn't go for that, he quit college and decided to try his luck on the
West-coast
jazz scene. Unable to get paying gigs, he talked to
Pee Wee Crayton
, who was making a lot of hit records for the
Bihari Brothers
in the late 40s, so Mickey decided he could bend a few notes and play the Blues if he could get paid. Returning to New York, he became a sought-after session man, backing big-selling artists like
Ray Charles
,
Ruth Brown
,
Big Joe Turner
and many others on their big hits on the
Atlantic
label.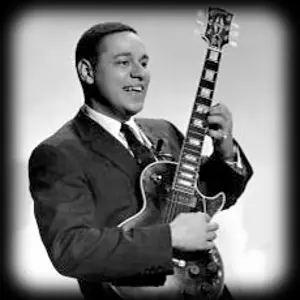 Mickey began making his own records too, including a jazzy instrumental album 'Guitar Mambo'. When session work was slow, Mickey worked as a guitar teacher, and in 1956 he teamed up with one of his students, Sylvia Vanderpool (later Robinson) to record as Mickey and Sylvia. Their version of a Bo Diddley song 'Love is Strange' went to the top of the R&B charts, and they had many crossover hits in the next few years, recording together well into the 60s. Mickey recorded another solo album 'The Wildest Guitar' in 1959, and continued to add his guitar licks to many R&B hits, with
Big Maybelle
for example, and played on
Ike
and Tina Turner's first hit.
The sublime 'South of France Blues' recorded for TV with the Coleman Hawkins Quintet
Around 1964, Mickey decided to relocate to Paris, perhaps inspired by Bluesmen like
Memphis Slim
and
Champion Jack Dupree
, who had found a warm welcome, a different place in society and plenty of professional opportunities across the pond. Mickey was again demand as a session player, especially with French rock singer Ronnie Bird, and his superb guitar technique made it easy to find club gigs all over the continent, and although he didn't record much after the 60s, he continued to play regularly.
Eric Bibb
, the renowned
Piedmont
guitarist with a Gospel/Blues voice, was encouraged by Mickey's example to stay in Paris and explore the thriving club scene. Mickey passed away at the age of 89 at his home near Toulouse in 2012.