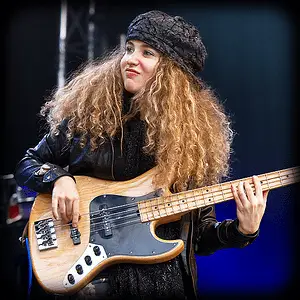 Tal Winkenfeld is the ultimate 'rock chick'. An astonishingly accomplished bass guitarist, with a complex, light and delicate style, she has attracted the attention of many Blues-rock and Jazz legends. Legions of fans all over the world with have been impressed by her appearances on records, DVDs and at prestigious gigs that players of such tender years might find daunting if they did not have her pure raw talent.
Born in Sydney, Australia in 1986, Tal was done with school at the age of 16. One of those instinctive players who seem to master any instrument in a few minutes, she picked up the guitar she had been playing for a couple of years and relocated to Los Angeles to enrol in the Academy of Music. Switching to bass after a year, Tal moved to New York after graduating, to find work in Jazz clubs. She picked up a guest spot with The
Allman
Bros. and by 2006 had composed, arranged, produced and recorded her debut album, 'Transformations', and on the strength of that work, she was recruited by Chick Corea for a tour that included Australia and Japan. Then
Jeff Beck
took her on a European tour that stretched a little to include
Eric Clapton
's Crossroads Festival in Chicago. They went back to London for a residency at Ronnie Scott's Club, then when the resulting DVD (plus a film recorded 'Live at Abbey Road' with Herbie Hancock, Wayne Shorter, Corrine Bailey Rae and Vinnie Colaiuta) were distributed and broadcast, the buzz around this phenomenal young talent built into a roar of approval on a global scale.
Tal shows her chops on Australian TV;
Still only 21, Tal toured Australia with her 'Transformation' musicians, re-united with Jeff Beck and the Allmans, and guested with Govt. Mule and
Robben Ford
. Yet more touring with Jeff culminated with his induction into the Rock'n'Roll Hall of Fame and, because Jimmy Page would be on stage with them for the show, it was Tal's idea to break into 'The Immigrant Song'. With no rehearsal, no stage or sound cues, and giving Jimmy just a few minutes warning, they launched into it: "That's dangerous, …. that's living on your reflexes!" commented Jeff, but when those instincts are as as sharp and sure as Tal's, they can be trusted implicitly. The DVD of her performance with these legendary Blues-rockers raised her profile even further, and she was invited to appear with
Buddy Guy
at The R'n'R Hall of Fame Anniversary show. Tal was in huge demand for various projects, including albums with Herbie Hancock, Macy Gray, and her 'Transformations' guitarist Wayne Krantz, among many others. Rod Stewart,
Susan Tedeschi
and Prince have all had Tal lay down her sinuous, intelligent bass lines at the heart of their work. She may be young, blonde and beautiful, but mere eye-candy, she definitely ain't!