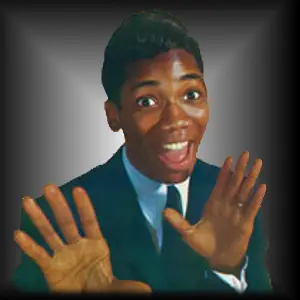 The story of Little Willie John is one of hope dashed by tragedy. His muscular, agile vocal style set the stage for a generation of Soul singers, but all his biggest records were covered with greater success by other artists. His undoubted talent led to a string of R&B and Hot100 hits, but he died in jail aged 30.
William Edward John was born in Cullendale AK in 1937, and his large family relocated to Chicago in the 40s, where Willie was part of a family Gospel singing group.
His melodious voice won him several talent contests, and he came to the notice of
Johnny Otis
in the early 50s. While singing for
Paul 'Hucklebuck' Williams
, he was snapped up by King Records in 1955, and his first solo effort 'All Around the World' reached No.5 in the R&B charts. His brother Mertis John Jr. wrote 'I Need Your Love So Bad', which Willie took to similar success the next year, and followed that with 'Fever' which topped the R&B chart and made No.24 in the Hot 100. Both songs are much better known in covers by other artists: 'Fever' was a worldwide hit for Peggy Lee two years later and was recorded by Elvis,
Ella
,
Ray Charles
and dozens of others, and 'Need Your Love' was a hit for
Fleetwood Mac
and covered by
BB King
,
Gary Moore
,
Buddy Guy
and many more.
Little Willie's original version of 'Fever' ;
Willie continued to have chart successes with 'Talk to Me', 'I'm Shakin' and his own song 'Sleep' with 16 R&B hits and 12 Hot 100 entries in total. Four good albums for the King label, with many self-written songs, show Willie to be a superbly emotional singer who could handle a ballad or an R&B dance tune with equal honesty. His vocal delivery and the crossover sales of his records made Willie a Soul pioneer before Sam Cooke got started, and he was still making hit singles well into the 60s. Willie was apparently a hot-tempered man, quite sensitive about his short stature, and he was known to carry a knife and a pistol. This combination led to him being convicted of manslaughter in 1966, and he died in a prison hospital two years later.