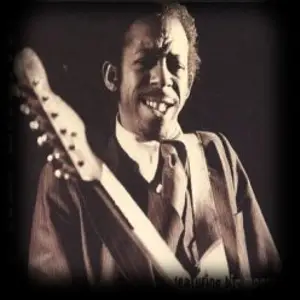 The History of the Blues is littered with wild characters like Charley Patton, Little Walter and Guitar Slim, but Lefty Dizz was one of the wildest, despite being little known outside Chicago. A fixture on the club scene from the mid-60s until the early 90s, Lefty and his band Shock Treatment pulled every trick in the book to put on a show. Anyone foolish enough to challenge Lefty to a 'cutting contest' was liable to end up in shreds as he showed his chops, playing at a furious pace while dropping musical quotes and gags into every line. However this man was not just a clown, despite his antics and constant joking, as his Degree in Economics from South Illinois University shows.
Walter Williams was born in 1937 in Osceola AK and he joined the USAF as soon as he was old enough. During his time in the Military he learned to play guitar, but as a 'left-hooker' he didn't bother to re-string it and played upside-down. When he was discharged in 1956, he wound up in
Chicago
where he befriended
Earl Hooker
and began to play gigs, including some with
John Lee Hooker
. Lefty got a big break in 1964 when he joined
Junior Wells
' band, where he stayed for seven years, touring the world. Then he sat in with
J B Lenoir
and
Hound Dog Taylor
's Houserockers, developing a flamboyant stage style that he took with him to his own band when the Hound Dog checked into the Great Kennel in the Sky.
You have never seen a guitar solo like the one at 5.00. Guaranteed!
Shock Treatment were a long-running act around Chicago, where Lefty took an adventurous attitude to audience participation as he dragged his Strat, still playing with one hand, through the crowd. He brought a bag of tricks and a self-mocking humour to the stage, but his playing was always clever and full of passion. In 1979, Lefty cut his first album 'Somebody Stole My Christmas' and another with 'Big Moose' Walker, but in truth none of his albums did justice to his stage act.
Lefty guested at a gig with
Muddy
and
The Stones
, which was captured on the video 'Live at the Checkerboard Lounge 1981', and he cut several live albums with Shock Treatment as they continued as one of Chicago's best kept secrets. Occasionally Lefty would go on tour with a friend, like
Magic Slim
or
Louisiana Red
, with whom he cut a couple of albums. In the early 90s, Lefty was diagnosed with cancer of the oesophagus, and he passed away in 1993.