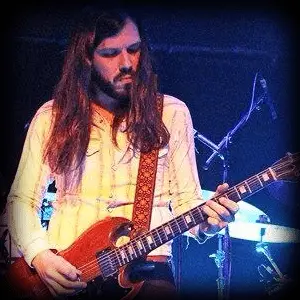 At first glance, Marcus Bonfanti seems to embody the time-honored archetype of the British rock and roll wild man. Raggedly coifed, lazily dressed, blessed with an intense stare that could frighten away a rattlesnake. If he were a few decades older, you could believe he was the love child of Janis Joplin and John Bonham. At sixteen, the song that urged him into a life of music was Led Zeppelin's "Black Dog."
But there is more to Marcus Bonfanti than what a first glance would suggest. An actual listen to his music would reveal the kind of nuance and taste no one would expect from a typical British rock and roll wild man.
Bonfanti's background reflects the kind of eclecticism that clearly played a huge role in his musical development. Born in London to an English mother and an Italian father, young Marcus' early exposure to music defies simple categorization. His first instrument was the trumpet, playing in school orchestras and brass bands. At fifteen he got his first guitar and everything changed. But as his early days of guitar playing consisted mostly of strumming along with the easygoing likes of The Beatles, Buddy Holly and Crosby, Stills and Nash, Bonfanti still had a ways to go before finding the blues.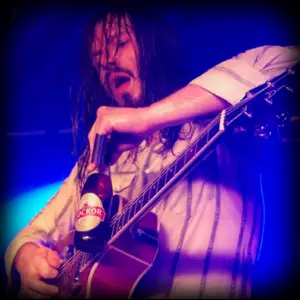 Then came Led Zeppelin and with them, a host of other influences that expanded the young Marcus Bonfanti's music world into something deeper, more varied and more tilted toward the wild world of the blues.
Stevie Ray Vaughan
was an early influence ("One of the first guys that I really got heavily into blues-wise, because you hear him play and you've never heard anything like it. It's mind-blowing.") While
Rory Gallagher
,
Tony Joe White
and Tom Waits all had their impact. And of course, there were the
three Kings
–
Freddie
,
B.B
and
Albert
.
Nursing a desire to become a musician from "the word go," Bonfanti's path toward the life of a musician didn't take long to establish. With encouragement from his parents (both dedicated music lovers) he soon attended the Liverpool Institute of the Performing Arts, but had mixed feelings about his experiences there. He loved being challenged by the excellence surrounding him ("I realized I really had to up my game and get with it and do some practice to even be able to jam with these guys.") but resented the lack of flexibility when he sought work in blues bars outside of school. Bonfanti left before acquiring a degree and hasn't looked back.
In 2008, the gifted vocalist and guitarist released a debut album called Hard Times and with each release since (What Good Am I to You? From 2010 and 2013's Shake the walls) has seen a expansion of his musical reach and his audience. In addition to critical acclaim, Bonfanti has garnered his share of British Blues Awards and praise from fans and critics alike.
In 2014 Bonfanti's career took an unusual but crucial step when he was invited aboard Ten Years After, a legendary Rock band from the UK whose life began well before his own. Decades younger than most of the band's members, Bonfanti's pairing with the band may seem odd. But a quick listen to the blues-fueled band reveals that they've found the perfect fit. In the years that have followed Bonfanti has divided his time between advancing his solo career and playing a utility role with his new friends of Ten Years after. There's little doubt that whatever he does in the future will captivate audiences who love the blues. To the uninitiated, a good place to start is Bonfanti's debut album 2008's aptly named Hard Times.