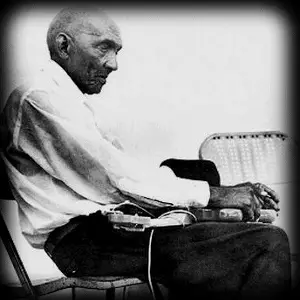 In 1968 the Blues researcher Bill Barth found singer and guitarist Nathan Beauregard motionless and silent in his run-down room in Memphis, and he was pretty alarmed because he thought he might be talking to a corpse! Nathan was known as 'The Tutankhamun of the Blues', because this bald, blind, shrunken old man resembled a mummified figure. When he made his first appearance at a Blues Festival later that year, this ancient musician could still sing in a clear, sharp voice as he picked out a sure-fingered tune on an electric guitar. Some people estimated that Nathan was around a hundred years old at the time, and the year of his birth has been variously estimated anywhere between 1863/7/9 to 1892/3/6. A highly respected source gives his birthdate as July 2nd 1892, but Nathan's 'lead-boy' when he was 'discovered' was his nephew Marrin, who was probably in his 70s himself.
Nathan was born in Colbert MS, some time in the 19
th
century, and probably went blind before he was one year old. He learned to play banjo as a way of making a few cents, before taking up guitar. He was known to be an associate of
Frank Stokes
, who went on to make a name for himself with 'The Beale Street Sheiks', recording for the Paramount field-unit when they came to town. Early
originators of the Blues
like Nathan and Frank had a wide repertoire of spirituals and folk tunes, and their 12-bar tunes were just a particular local style of folk song. The record companies all wanted to find country players to satisfy the market for the new '
race records
', and many of the classic
Delta Blues
songs were recorded at this time, but perhaps they thought Nathan was too old even then, because he was never given the opportunity to cut a single track.
Nathan from the film "Good Morning Blues

Very little is known about Nathan's life, but when Bill tracked him down in 1968, he quickly arranged for him to share the stage with Bukka White at the Memphis Country Blues Festival. Mike Vernon recorded a live album of the show for his Blue Horizon label, which included Nathan's 'Kid Gal Blues' and 'Highway 61'. The following June, Bill Barth, Chris Strachwitz and John Fahey got Nathan into a Memphis studio, where he cut 'Nathan's Bumble Bee Blues' and 'bout a Spoonful' for the Arhoolie label's 'Memphis Swamp Jam'. In October 1969, Nathan was again in the studio to record 'Ain't Nobody's Business but My Own' and 'Lonesome to Myself' for 'Memphis Blues Again' and that was the end of Nathan's recording career. He was a very old man when he passed away the following spring.