AN APPRECIATION OF BB KING
September 1925 - May 2015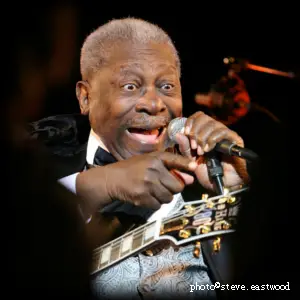 In 1925, Riley B King was born in Indianola in the Mississippi Delta, where he grew up listening to Jazz and Blues records on his Aunt Mina's wind-up Victrola, and singing in the St. John Gospel Choir. He was working in the fields as soon as he was big enough to hold a hoe, and although he learned guitar well enough to earn some tips when he played on streetcorners, he was 20 years old and still working as a farm-hand when an accident changed his life. Riley was driving his boss's tractor when he crashed it so badly it was a total wreck, so rather than face the music he grabbed his guitar and ran away to Memphis to stay with his Uncle Bukka. Booker T Washington White was his mother's cousin and, billed as Bukka White, this gravel-voiced slide-guitar player had begun a promising recording career up in Chicago before it was cut short by WWII. Riley started playing for tips on Beale St. where all the young musicians would gather, and among the future Blues stars he played with were Bobby 'Blue' Bland, harp player Junior Parker and singer Johnny Ace. This informal band would play a gig at the drop of a hat if someone invited the 'Beale Streeters' to a bar or a party where they could use stylish pianist Rosco Gordon. Riley never mastered the 'bottle-neck' technique used by many Delta slide-guitarists, but he achieved a similar 'sustain' by using vibrato on the strings like a cellist, and his distinctive, tasteful playing earned him the nick-name 'Beale Street Blues Boy'.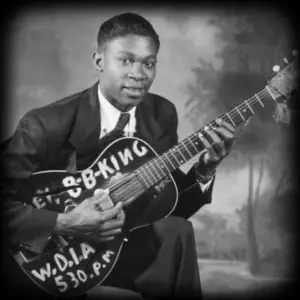 Riley was ambitious, so he wrote to the spectacular harp player Rice 'Sonny Boy II' Miller, who had a DJ gig on the daily 'King Biscuit Time Radio Show', asking for a chance to play. That 'showcase' opportunity got him a $25 residency at Miss Annie's 6th Street Grill and a 'Pepticon' advertising jingle! Sonny Boy II had another Delta guitarist in his band, Joe Willie Wilkins, and his jazzy single-string runs began to appear in Riley's playing after those radio shows. T-Bone Walker's elegant electric guitar style left its mark too, and 'Blues Boy' realised he need an electric instrument. He soon had a DJ job on the radio himself, where he could also play guitar, and when the station got a 50,000 watt transmitter he gained an audience that stretched from New Orleans to Chicago. In 1949, with his 'Blues Boy' name shortened to BB, and his 'Sepia Swing Time' show a big hit, he signed for Bullet Records in Nashville, and made his debut disc, 'Miss Martha King', perhaps in tribute to his new wife Martha. While touring the region to promote his records, BB was involved in a dangerous incident when two men began fighting over the attentions of a woman, and knocked over a paraffin heater. The whole juke-joint went up in flames, and when he got outside BB realised he had left his precious Gibson guitar on the stage, so he rushed into the inferno to save it. He named that guitar 'Lucille' after the woman who had caused the rumble, and from then on the many generations of BB's trademark Gibson ES guitars were always called 'Lucille'.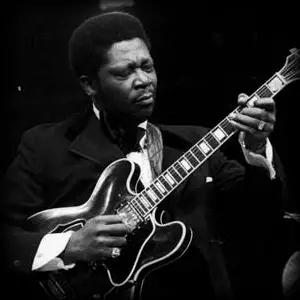 In 1952, BB had signed for Modern Records and, after a few releases that didn't trouble the charts, his version of Lowell Fulson's song '3 o'Clock Blues' went to the top of the Billboard R&B listings and stayed there for 15 weeks. This made him the hottest Bluesman in America, and the next few years saw a string of big R&B hits like 'You Know I Love You', 'Every Day I Have the Blues', 'Sweet Little Angel' and dozens more. The big red bus carrying The BB King Revue called at The Apollo in Harlem, The Howard in Washington and every stop on 'the chitlin circuit' many times over, and in 1956 the band played 342 one-nighters. BB released at least one album every year from then on, until his 'Live at the Regal', recorded in Chicago in 1965, took his music out of the African-American community and the 'black' radio stations, and put him onto the centre stage of American music. The 'British Invasion' of bands like The Rolling Stones, The Animals, Cream and Fleetwood Mac took Blues-based music into the mainstream, and when BB played The Fillmore West in 1966 it was to a mainly white audience. As BB said, "It all opened up then."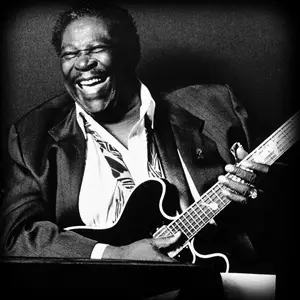 In 1970, BB recorded his achingly beautiful version of 'The Thrill is Gone' and its worldwide success put the seal on his greatness. The single did well in the R&B charts, but it also crossed into the Billboard Top 20 and pop charts around the world, giving BB an enduring signature song and making him probably the best known Bluesman on the planet. As a maestro of the Blues, BB toured the world inspiring young players with his distinctive tone and elegant phrasing. At home, he established a Prisoner Rehabilitation Charity, perhaps because his Uncle Bukka did some jail-time, and played over 60 prison gigs, recording live albums at Cook County Jail and San Quentin, and he was also a Director of Little Kids Rock. For decades BB continued to play up to 300 gigs a year, despite his struggles with diabetes. Twice married and with at least 50 grandchildren, BB was also a licenced pilot who flew himself to gigs until he was 70 years old.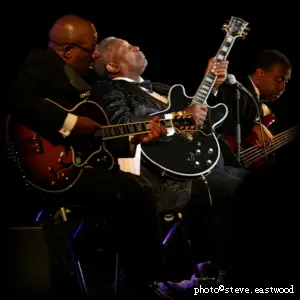 BB released more than 70 albums and almost 140 singles over his long career, with a No.1 Blues Album as recently as 2008. When he headlined the Glastonbury Festival in 2011, BB played to a crowd of 100,000, with millions more watching on TV around the world, wishing they could be there. Van Morrison, Elton John, Sheryl Crow, Stevie Wonder, Dr. John and Gary Moore are among the dozens of world-class musicians who recorded with BB, but his most special collaborators were his old friend Bobby 'Blue' Bland and Eric Clapton, with whom he made the double-platinum album 'Riding with the King' in 2000. The record industry awarded BB 16 Grammys and countless Blues Music Awards (their top accolade is now the 'BB King Entertainer of the Year'); the nation has given The Presidential Medal of Freedom and the National Medal of the Arts; there have been Honorary Doctorates and all kinds of honours from all over the world. But perhaps his greatest tribute lives on in the memories of millions of Blues fans who would recognise a BB King guitar line after only a few notes, and love it beyond words. With that powerful vibrato style and his love of pulling and bending almost every note, BB created a special kind of magic when he played the Blues. He was a great Blues singer too, but every song he sang was a duet with that elegant Lady called Lucille. We will not see their like again.