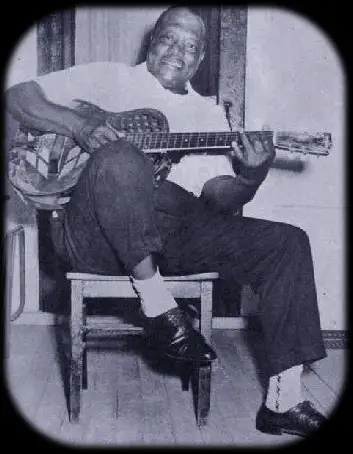 Virtuoso slide guitar playing on his National Steel, his deep, distinctively agile voice, and his talent for improvising songs out of thin air, for hours on end, made Bukka White a prized discovery of the Folk/Blues revival of the sixties.
Booker T Washington White was born in the hill country of Mississippi in 1906, the son of a fiddle playing railwayman. Bukka learned fiddle from his father, who eventually bought him a guitar, but his Grandmother wouldn't allow 'the Devil's Music' in the house, so when he was fourteen Bukka went to live with an uncle in Clarksdale in the heart of the Delta.

Bukka worked as a field hand, played guitar at parties and told all the girls he was 21. He ran into local man
Charley Patton
around this time and picked up some new techniques of guitar playing, and probably seduction too. Bukka spent several years wandering the South playing guitar and picking up casual work until 1930 when he was spotted by a scout from the Victor label who arranged some recording sessions in
Memphis
. Bukka put down 14 tracks of Blues and Gospel material, but only four were ever issued as the economic depression hit record sales. Unable to make a living from music, Bukka played professional baseball in the Negro League and later tried to make it as a pro boxer.
Word of Bukka's musical talent must have got around because in 1937 he was invited by Big Bill Broonzy to record for legendary producer Lester Melrose in Chicago. Unfortunately for Bukka he was on bail for a shooting offence, so he was hauled back to Mississippi to serve three years in Parchman Farm having recorded only two tracks. Musicologists John and Alan Lomax went to Parchman in 1939, where they recorded a couple of Bukka's songs. When he was released in 1940, Bukka high-tailed it to Chicago with a dozen songs ready for Lester. These sessions, released on Vocalion and Okeh and with his guitar backed only by Washboard Sam, proved to be Bukka's finest work and the backbone of his repertoire.
Bukka's spine-chilling 'Parchman Farm';
Again success eluded Bukka and he spent WWII working in a factory in Memphis with his career at a standstill. In 1947, his young cousin Riley B King arrived to stay with him, and soon started building his own reputation, but Bukka remained in the background. It was rumoured Bukka was dead when Bob Dylan recorded 'Fixin' to Die Blues' on his first album in 1961. By 1963 two Blues fans from California, John Fahey and Eugene 'ED' Denson, had tracked Bukka down and they recorded him in spectacular form later that year. Playing intricate rhythm and lead slide-guitar at the same time and monstering his lyrics with that strong, precise but slightly 'cracked' voice, Bukka dazzled the Folk/Blues revival fans. He may have been back in the Delta when the Blues were being born, but Bukka was no antique; he was a compelling performer at the height of his powers.
Powerful performance of 'Miss Leola' on a sixties TV show;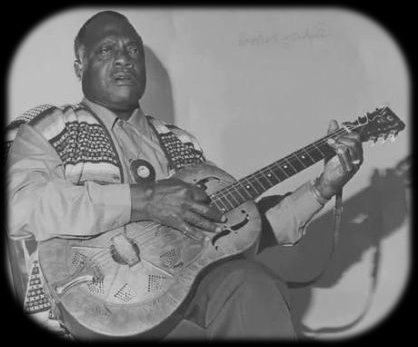 The Arhoolie label captured the essence of Bukka in an extensive collection of 'Sky Songs', a reference to his ability to "pluck songs from the skies". These recordings lack any sense of focus, but as documents of experiencing Bukka enjoying himself playing to the college and coffee-house circuit, they are a revelation. A masterful raconteur, Bukka fills a whole side with a story about getting drunk called 'Mixed Water' and his extended versions of piano and slide-guitar Blues show a man revelling in the late appreciation of his work.
Bukka played the Newport Folk Festival in 1966 and toured Europe the following year. The Blues Festival circuit kept Bukka going for the next ten years. His 1973 album 'Big Daddy' was a commercial and critical success, with his voice and playing as sure as ever, but it was not to last. Bukka died from cancer in Memphis in 1977.
Bukka White might not have enjoyed the worldwide recognition of his electric guitar playing cousin BB King, but this colourful character proved how full of life the Blues can be.