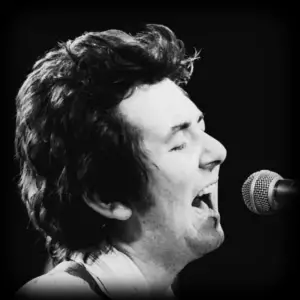 Good-time Blues Rock was one of the offshoots of British music at the end of the 60s, and The Faces were at the forefront of the movement. Bass player and songwriter Ronnie Lane was the heart and soul of the band and when they split, he went on to explore some musical byways of his own, until he was cruelly cut down by the lottery of an inherited disease.
Ronald Frederick Lane was born in the East End of London in 1946, into a family with health issues, with both his mother and brother suffering from Multiple Sclerosis. Ronnie left school in 1962, learning guitar just as
The British Blues Boom
was getting started. With a local drummer, Kenney Jones, Ronnie formed his first band The Outcasts, and when another East End kid with a great Soul voice, Stevie Marriott joined, Ronnie switched to bass and they got a record deal as The Small Faces. The band, with Ian McLagan on keyboards, had great success in British and European singles charts and the 'Nut Gone Flake' album topped the UK chart for six weeks, with Ronnie and Stevie writing almost all the songs. In 1969, Stevie left to set up Humble Pie, so the guys brought in Ronnie Wood and Rod Stewart, who had just made a couple of classic British Blues albums with
Jeff Beck
, and adapted their name to The Faces. For four years they toured the world, playing some enormous venues as 'stadium rock' took off and selling truck-loads of records written by Ronnie and Rod, like 'Stay With Me' and 'Pool Hall Richard'. In 1973, Ronnie left and the band soon split, with Rod going on to become a pop superstar and Ron Wood joining
The Stones
.
 The Faces rocking out at The BBC;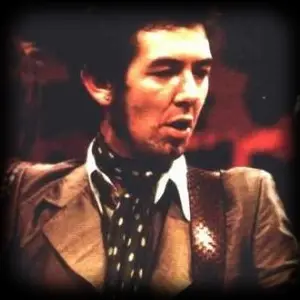 'Retiring' to the Welsh countryside, Ronnie kept playing with his band Slim Chance, producing a couple of Folk/Rock albums of songs written with his wife Kate Lambert, for the Island label. Ronnie found that he was still contracted to Atlantic Records through The Faces and 'owed' them an album, so he and Pete Townsend of The Who came up with 'Rough Mix', featuring their own songs and a guest spot from
Eric Clapton
, which made the Top 50 album charts in both the UK and USA. Around this time, Ronnie was diagnosed with the family curse of MS, so his response was to hit the road in full Gypsy regalia, including a horse-drawn caravan, and take a travelling show around the highways and by-ways of Britain. In 1981, he was part of The Majic Mijits with Steve Marriott and Zoot Money, but they were unable to tour their album as Ronnie's condition worsened, although it was re-issued many years later.
Ronnie and Slim Chance on British TV;
In 1983, Ronnie's friends arranged a two-night benefit concert at The Albert Hall in aid if MS Research, with Clapton, Jeff Beck, old Faces Wood and Jones,
Andy Fairweather-Low
and many more. With
Joe Cocker
on board, they toured the show around The States and the following year Ronnie relocated to Texas. A new version of Slim Chance continued to play, especially around the Austin area, for eight years until Ronnie's health declined to the point where he couldn't perform. He and his new wife Susan then moved to Colorado, where Ronnie passed away from pneumonia in 1997, at the age of 51.