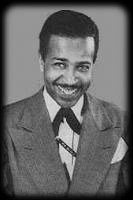 Wynonie's Blues-belting, hip-swivelling, suggestive stage act in the late 40s made him a role model for many Rockers who followed him. He scored big hits with 'Good Rockin' Tonight', 'Lollipop Mama', and 'All She Wants to Do is Rock' all making the top of the R&B charts, but he could not ride the wave of Rock'n'Roll when it broke. He never troubled the charts again, which is a shame because those thirteen top ten R&B hits between 1948 and 1952 laid the foundations of the music that overtook him, and he spent the rest of his life trying to regain his former glory.
Wynonie was born in Omaha NE to an unmarried 15-year-old mother, and he believed his father was a Native American named Blue Jay, so his surname came from his step-father Luther Harris. When Wynonie was a teenager he started a dance team that performed all over the local scene, and he soon got a taste for singing the Blues. Frequent trips to Kansas City to see
Big Joe Turner
influenced Wynonie's style and he also took some tips from
Jimmy Rushing
as he developed into a full-blooded Blues Shouter. When he moved to LA in 1940, Wynonie found plenty of work in the clubs as a singer and MC, where his big ego and suggestive stage persona were given free rein. His reputation spread, and he was working at The Rhumboogie Club in
Chicago
when he was spotted by
Lucky Millinder
who hired him to front his Orchestra. They recorded 'Who Threw the Whisky in the Well' in New York in 1944, but by the time it was released and went to No.1 in the R&B charts, Wynonie was already back in LA looking to go solo.
On the groundbreaking 'Good Rockin' Tonight', Wynonie was backed by 'Hot Lips' Page's band;
Wynonie recorded some sessions with Johnny Otis for Philo, but he signed for Decca where he had two big hits in 1946 with 'Wynonie's Blues' and 'Playful Baby'. He then skipped through various LA labels including Aladdin where he recorded a double-sided 'Battle of the Blues' with his idol Big Joe Turner. Wynonie signed for Syd Nathan's King/Federal label in 1947 and set out to record a stellar sequence of classic jump-Blues records. When he was first offered New Orleans rocker Roy Brown's song 'Good Rockin' Tonight', Wynonie turned it down, but when he heard Roy's version on record, he covered it and got himself a massive, game-changing hit. This proto-Rock'n'Roll belter was covered in turn by Elvis on his second release in 1954, and the young man may have developed his massively confident, hip-thrusting, sexually charged stage presence from Wynonie too. The hits just kept on coming for Wynonie over the next four years with a string of suggestive, danceable jump-Blues like 'Lollipop Mama', 'Sittin' On It All the Time', 'I Want My Fanny Brown', 'Bloodshot Eyes' and 'Good Morning Judge'.
'All She Wants to Do is Rock' was classic jump-Blues;
Wynonie's total of 13 Top Ten R&B hits, including three Chart Toppers, came to a shuddering halt in 1952. Brilliant songs like 'Quiet Whisky' and the rip-roaring 'Down Boy, Down' failed to sell, and when white kids began buying Rock'n'Roll records, Wynonie's reputation for innuendo and an ego bordering on arrogance did not serve him well with record companies and radio stations.
A series of flops on the King label led to Wynonie switching to Atlantic, and then on to Roulette in 1960, but even though the music still rocked, Wynonie's star had fallen below the horizon. A further three tracks recorded for
Chess
in 1964 remained unissued in Wynonie's lifetime. He scraped a living doing live work in LA until he succumbed to throat cancer in 1969.