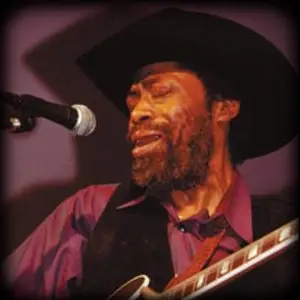 Chicago guitarist Son Seals spent his whole career carrying the flag for the powerful 'West-side' guitar breaks  pioneered in the solos of Otis Rush and Magic Sam back in the late 50s and early 60s. Son's rawboned Blues guitar licks could convey joyful high energy, deep rage and anger, and a smiling confident swagger, and his strong, gravel-voiced singing style came straight from the heart.
Frank Seals was born in 1942 in Osceola AK, into a huge family that lived in the back of his father's juke-joint. The kid would sneak in during the day and play the drums, and at night he got to see men like Robert Nighthawk and Albert King play their Blues.
Albert showed the kid some basic chords and licks, and by the time he was 17, 'Son Seals and the Upsetters' were a regular act on the scene in the Little Rock area. They played the local clubs and bars for more than ten years before Son made the move to Chicago in 1971. He played drums for Albert King, 'second' guitar for
Earl Hooker
and sat in with
Hound Dog Taylor
before getting his own band together. They had residencies at the Flamingo Club and the Expressway Lounge, where they were seen by
Bruce Iglauer
, who signed Son to his Alligator label.
Son plays 'Don't Lie to Me' at the 2001 Chicago Blues Festival;
Son's first album, in 1973, included his blistering instrumental track, 'Hot Sauce', which announced the arrival of a big new guitar talent. The acclaimed follow-up 'Midnight Son', with a tight horn section, had several of his own trademark songs that stayed in his set-list throughout his career. A long series of albums followed on the Alligator label including two brilliant live sets: one from the Wise Fools Club with
AC Reed
on sax, and another from
Buddy Guy
's Legends Club, which both convey the sheer intensity Son could wring from his guitar.
Son was awarded three WC Handy Awards in the late 90s, but he had a few problems too. His wife shot him in the jaw, he lost a leg to diabetes, his house burned down while he was on tour and he lost his best guitars to a burglar. Damn! When he passed away in 2004, he was survived by 14 children.