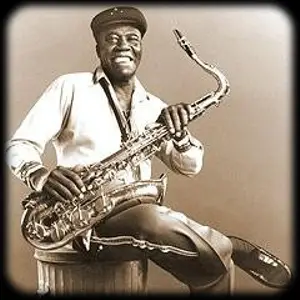 Sax playing, singing bandleaders are not common, but AC Reed pulls it off in style as his laid-back vocals and swinging sax fronted his Chicago based band the Spark Plugs. Having gained a solid apprenticeship backing a series of Blues Legends, AC's late solo career showed a performer and songwriter with a sense of humour and a social conscience.
Born in Wardell MO in 1926, Aaron Cordell grew up in southern Illinois, where his interest in big-band swing music led him to get hold of a sax. He moved to Chicago during WWII and after studying at the Conservatory of Music and supporting himself by working in a steelworks, his talent got him work supporting
Earl Hooker
and
Willie Mabon
in the early 50s. In 1956 he joined forces with
Ike Turner
's side-kick Dennis Binder and they toured their R&B band all over the South and South-west. AC took the name Reed from his friend
Jimmy Reed
, and that is how he was billed on his session work on many records on the Chief/Profile labels. He cut a single 'This Little Voice' in 1961 which was a regional hit, and he released several more like 'Mean Cop', 'I Stay Mad' and 'Talkin' Bout My Friends' over the next few years. In 1967, AC joined
Buddy Guy
's band and he stayed for more than ten years. When
Junior Wells
joined soon afterwards, they took the band round the world on the Festival circuit, on massive stadium tours with
The Rolling Stones
and on a non-stop club schedule where AC's intense, driving sax always pushed the energy levels higher.
A C plays 'Jealous Man' with the Mojo Blues band;
When AC left Buddy's band, he teamed up with
Albert Collins
for several years and featured on five of his albums as well as finding time to tour with 'Son' Seals. In 1982, AC started a solo career with his band the Spark Plugs with his trademark, tongue-in-cheek approach on his first album 'I Got Money' on the French Black and Blue label. His albums 'Take These Blues and Shove 'Em' and 'I'm In the Wrong Business' show a man having a great time, despite those titles, especially when
Stevie Ray Vaughan
or
Bonnie Raitt
join him. Another album, 'Junk Food' in 1998, where AC praises the sax-playing President, proved to be his swan-song as age began to take it's toll. AC passed away from cancer in Chicago in 2004.