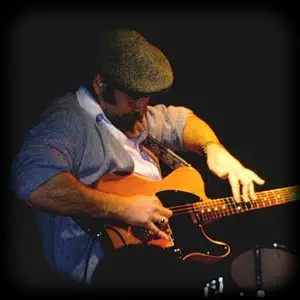 'The Best Unknown Guitarist in the World' was a 1971 TV documentary about Roy Buchanan. Playing his trademark Fender, which he first picked up at the age of 13, Roy was a unique-sounding session guitarist, who apparently turned down a spot in The Rolling Stones, and went on to record some great Blues-rock albums before coming to a tragic end.
Born in Ozark AL in 1939, Roy moved to California with the family when he was small. His father was a farmer and preacher, and Roy was surrounded by Gospel music at his Dad's integrated revival meetings, and by hot R&B stations on his radio.
Learning lap-steel guitar before finding his first
Fender
, Roy moved to LA when he was 15, where he came under the protection of
Johnny Otis
. He played around the club scene for a while and learned from watching men like
Johnny 'Guitar' Watson
and Pete Brown, before forming his own band, The Heartbeats. They were hired as the backing band for rockabilly star Dale (Suzy Q) Hawkins, but after a couple of years, Roy resigned and moved to Canada. He joined Ronnie Hawkins (no relation) and the Hawks where he played alongside Robbie Robinson and Levon Helm. Building a strong reputation on the East coast as a session musician and touring side-man, Roy had settled in Washington DC by the end of the 60s.
Roy's distinctive tone on 'When a Guitar Plays the Blues';
With his masterful command of harmonics and a wailing but fluid solo style, Roy's unique Blues-rock talents attracted The Rolling Stones' attention when they were looking to replace Brian Jones, but it seems Roy turned them down. John Lennon, Jeff Beck and Eric Clapton were interested too, but Roy preferred a low profile.
That TV documentary changed things, and Roy was signed to Polydor as a solo artist in 1972, recording five critically acclaimed but slow-burning albums, then three more for
Atlantic
with much the same result. Disillusioned, Roy took a long break from recording, but
Alligator
Records got him back in the studio in 1985 with the promise of full creative control. The result, 'When a Guitar Plays the Blues', was a terrific album that actually started to sell, and he followed it up with two more in subsequent years, 'Dancing on the Edge' and 'Hot Wires'. As Roy began to move from the shadowy role of 'hidden treasure' into the spotlight his talents deserved, tragedy struck. Roy was arrested in 1988 in Fairfax VA for public drunkenness and was put in a holding cell, where he was discovered hanged a short while later, resulting in a disputed verdict of suicide.