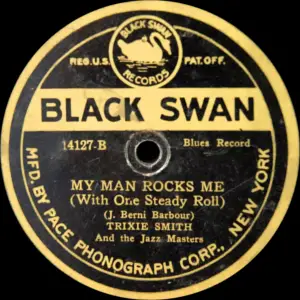 In the early 1920's Blues recording was dominated by women who took the Blues from the travelling shows and the cabaret stages to the recording studio and, although unrelated, many of them shared the surname Smith. Of course, Bessie Smith, 'The Empress of the Blues', is obviously the best known of these women, and Mamie Smith is historically important as she broke the race barrier by being the first African-American to have a hit Blues record. Clara Smith is remembered as 'The Queen of the Moaners', despite having a sweet, melodious voice, but Trixie Smith was a big star who was in there at the start of things and her career lasted into WWII, selling millions of records along the way.
Trixie Smith came from a comfortable family in Atlanta, Georgia where she was born in 1895. After studying at Selma University in Alabama, she began singing in minstrel shows and on the TOBA cabaret circuit across the South. Following the success of Mamie Smith's record 'Crazy Blues' in 1920, the market for 'race records' expanded quickly so Trixie went to find her fortune in New York, and in January 1922, she entered a talent contest at The Manhattan Casino, billed as 'The Southern Nightingale'. She sang her own song 'Trixie's Blues' and, winning the contest against talents like Lucille Hegamin and Daisy Martin, she was rewarded with a silver cup and a record contract with Harry Pace's Black Swan label. She immediately scored several big hits, including 'My Daddy Rocks Me' which includes the phrase 'Rock and Roll' in the lyric. Signing for 'Ink' Williams' Paramount label in 1924, she continued to be a leading Blues Diva in the face of competition from Bessie Smith and Ma Rainey. Trixie's 'Railroad Blues' and 'The World is Jazz Crazy' were big hits in the days of Prohibition and 'speakeasies', and they featured the backing of superb musicians like Louis Armstrong and Fletcher Henderson.
Trixie's 'Railroad Blues' from 1925′;
When the Blues Divas fell from popular favour in the late 20s, with
Memphis
jug-bands and the more urbane and sophisticated 'hokum' Blues dominating record sales, Trixie returned to the stage. She starred in several musical revues and played in Mae West's 'The Constant Sinner' on Broadway, as well as making several appearances in feature films. In 1938, Trixie sang at John Hammond's
'Spirituals to Swing'
concert at Carnegie Hall and the quality of her performance led to her resuming her recording career with Decca records, cutting several great tracks with fine musicians like Sidney Bechet and with Red Allen's orchestra. In 1943, following a short illness, Trixie passed away in New York.