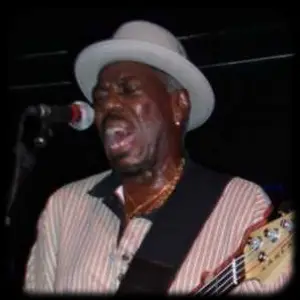 Willie Kent was a Chicago bass man with deep roots in the Delta, and his solid style, his strong voice, and his disciplined backing musicians made his Blues sound heartfelt and convincing without ever being flashy. With his tight, regular band providing the perfect backdrop, his passionate and committed vocals told of a man who knew all about the Blues, and Willie Kent and the Gents were a regular feature of the Chicago club scene for nearly twenty years.
Born in 1936 in Sunflower County MS and raised on the music of Muddy Waters and Robert Nighthawk, when Willie's family relocated to Chicago in the mid-50s, he soon found work playing bass in the West-side clubs. Backing up men like Little Walter, Fenton Robinson and Eddie Taylor, Willie kept at it when times got tough, playing part-time and earning his living driving a truck. In fact, it was a heart by-pass operation in 1987 that ended Willie's job as a driver, so he threw himself into music and formed his own band. The Gents' bass-heavy sound, Willie's great voice and some uncluttered lead playing, attracted the attention of Delmark Records, and Willie's 1991 album 'Ain't That Nice' was not revolutionary, but it was authentic and deeply felt.
Blues Festivals and other gigs outside Chicago spread Willie's name to wider circles, but his style never strayed far from home. He gathered a hat-full of Blues Awards for his albums 'Comin' Alive' and 'Make Room for the Blues' and for his bass playing, and a Library of Congress Award for 'Ain't That Nice'. Willie was diagnosed with cancer in early 2005, but he kept on playing through his treatment, losing the fight a year later.
Willie leads a great band at a European Festival gig;