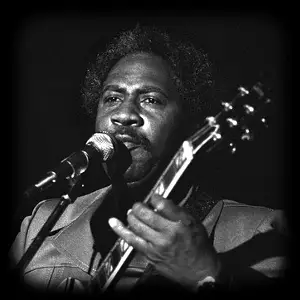 Sometimes a great blues talent slips through the net, producing their best work when our music is going through a slow time, and having their best songs made famous by other people. Fenton Robinson was called a "mellow guitar genius" by Japanese fans, and his sparkling, Jazz-flavoured guitar and smooth baritone voice made him a contender for Grammys and world fame, but somehow the time was not right, and he remains a footnote in Blues history.
Fenton Robinson was born in Greenwood MS in 1935, in the heart of
the Delta
where
the Blues originated
. Growing up with this music all around him, Fenton learned to play guitar and, when he was 16, he set off to
Memphis
to seek his fortune. By then
BB King
was a big national star, but the other 'Beale Streeters',
Johnny Ace
,
Bobby 'Blue' Bland
,
Junior Parker
and
Rosco Gordon
were still playing in town. BB was a big influence on Fenton's playing and both men pay tribute to
T-Bone Walker
as a pathfinder for their gritty, hard-edged, single-string style. Pianist Rosco used Fenton as a side-man on a 1956 session, and then Bobby 'Blue' recommended him to the
Bihari Bros.
whose Meteor label released Fenton's debut record 'Tennessee Woman' the following year. Fenton formed his own band The Dukes with bass player Larry Davis, and they both played on Larry's great song 'Texas Flood' on the
Duke label
, which also issued Fenton's immortal version of 'As the Years Go Passing By', with the young
James Booker
on piano.
Fenton nails it on his own song 'Somebody Loan Me a Dime';
In 1962, Fenton relocated to Chicago where he quickly established himself on the club scene, playing with
Rice 'Sonny Boy II' Miller
,
Otis Rush
, and
Junior Wells
, and recording with steel-guitar Bluesman
Hop Wilson
and bandleading bassman
Willie Kent
. When the British Invasion of R&B-based popular music allowed the Blues to influence the mainstream, Fenton began to hit his stride, with his song 'Say You're Leaving' and the great 'Somebody Loan Me a Dime' which was denied national distribution in late 1967 by a freak snowstorm. When Boz Scaggs' cover version was a big hit in 1969 without crediting Fenton, a long law-suit followed. Meanwhile Fenton's Nashville-based record company 7/77 pushed him towards rock music where he was not even allowed to play guitar! Fortunately
Bruce Iglauer
at Alligator Records saw Fenton's potential and signed him for an album 'Somebody Loan Me a Dime' in 1974. This success resulted in two further albums of Fenton's finest work, as his deep, mellow vocals and elegant guitar lines found a place to flourish.
Blame for a serious automobile accident saw Fenton spend some time in jail, and his career lost momentum, but his playing did not suffer, as the fine 'Night Flight' album shows, and he also supplimented his income by teaching guitar. One further solo album, 'Special Road' was recorded for the Dutch Black Magic label, subsequently re-issued by Evidence, but Fenton did not catch on in the 80s Blues revival that saw
Stevie Ray
and
Robert Cray
burning up the charts. Sadly Fenton was diagnosed with brain cancer and, after a long fight, he finally passed away in 1997.