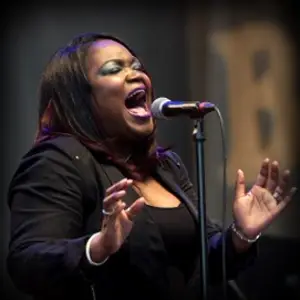 The way Shemekia Copeland's soaring voice scorches into a listener's soul you'd swear you were hearing a vocal talent born to inherit the mantle of blues greatness. And you'd be right. With a father like Texas bluesman Johnny Copeland and a birthplace like Harlem, New York City, this expressive blues-shouter couldn't have asked for a more soulful pedigree.
The elder Copeland was a well-travelled guitar player and singer who, because of often-lukewarm record sales, had to make a living through the old-fashioned manner of touring, touring and more touring. When the disco craze struck in the late 70s, he headed for the east coast, where his daughter was born in 1979.
It is fitting that the bluesman, whose daughter boasts such a strong musical lineage would, at the age of nine, make her debut at Harlem's famed Cotton Club, former stomping grounds of too many jazz and blues legends to mention.
Her first long-term gig, coming at the ripe age of 16 was as opening act for her father, granting her, before graduating from high school, the kind of cachet in the blues world many would wait a lifetime to acquire. Still four years short of her fortieth birthday, the youthful Copeland manages to pack the kind of soul-drenched grit in her growl that call to mind the sort of wise older vocalists the blues has a rich history of producing.
Shemekia Copeland performs "2 AM" live
At eighteen, Copeland released her first CD, 1998's Turn the Heat Up, drawing the immediate notice of blues aficionados and critics alike. The efforts that followed deepened and broadened the singer's reach, both as showcases for her endless talent, but also as a platform for combining strengths with some of the most celebrated talents in the world of music. Her sophomore CD, for example, 2000's Wicked, gave her a chance to perform a duet with her hero Ruth Brown, while her next, Talking to Strangers was produced by Dr. John. Legendary guitar man and producer Steve Cropper was at the helm for The Soul Truth, released in 2005.
Recommended Album
A supreme vocal talent like Shemekia doesn't need much help to rattle your soul, but she gets plenty of it on Outskirts of Love. Her band seems determined to match her searing delivery, howl for gut-wrenching howl. Together this hauntingly skilled team of blues masters recall the very best of the Blues' storied past – its mythology, its rawness, its unflinching honesty – while never forgetting to bring us back to the present. Tunes like Carboard Box and the more country influenced Drivin out of Nashville would not have sounded out of place recorded by a delta blues legend of the early 20th century. But then others like Crossbone Beach proudly point to the Blues' promising future.
Outskirts Of Love
Her first release with Telarc International, 2009's Never Going Back won her a Rising Star – Blues Artist award with Downbeat magazine. The awards and opportunities haven't stopped pouring in yet. She's performed at the Chicago Blues Festival, been nominated for several Blues Music Awards and has even been presented with Koko Taylor's crown, a rare honor given to the new "Queen of the Blues" by Koko's daughter, Cookie.
Among the many luminaries she'd had the great privilege to work with are Bonnie Raitt, B.B King, Carlos Santana and Buddy Guy. She's opened for the Rolling Stones and performed at the White House. Yet all of her many achievements don't prevent her from still having the blues. If this seems odd, listen to the unrestrained sense of joy found on her song, "I'm a Wild Woman and You're a Lucky Man." If nothing else the buoyant track offers a raucous ride of a lesson to anybody who reflexively equates the term blues with the emotion sad. The blues has never sounded more laced with life than when belted out by Shemekia Copeland.
When asked of future plans, Copeland spoke of wanted to 'escape her comfort zone.' More specifically – and improbably – she voiced a desire to learn opera, insisting, "I have no idea how to use that in blues, but I want to know how it's done." If the past is any predictor of what the future holds, we can count on Shemekia Colepland's efforts in using her operatic voice to be breathtaking, awe-inspiring, and loaded with all the soul-rattling vibrancy of an unleashed bull.