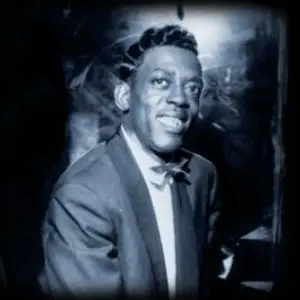 Rosco Gordon was a Memphis pianist who developed an off-beat shuffle that gave his work a distinctive flavour. That sound went on to be very influential in Ska and Reggae music when Rosco's records made it to Jamaica. As one of the Beale Streeters, Rosco played with the Blues élite and he had some very big R&B hits of his own, but he did not feature in the Blues Boom of the 60s like so many of his contemporaries.
The youngest of eight kids, Rosco was born in Memphis in 1928, or possibly 1934. He learned to play his mother's piano and when he finished school, he would sing and play with Ray Jones's sax and a drummer in gigs around the neighbourhood. Rosco would also hang out on Beale Street with other young guys like BB King, Johnny Ace, Junior Parker and Bobby 'Blue' Bland.
They formed impromptu bands for gigs, parties and broadcasts as The Beale Streeters. When Rosco's trio won a talent contest at The Palace Theatre in 1951, MC
Rufus Thomas
invited them to play on his radio show, and he also took Rosco to
Sam Phillips
' Memphis Recording Services. They recorded a version of Rosco's track 'Booted', and the tapes were sent to Chess Records in Chicago. Meanwhile
Ike Turner
scouted Rosco for the Modern label and they recorded 'Booted' too and despite appearing on two labels, the record topped the Billboard R&B charts.
Leonard Chess
and the
Bihari Bros
. settled their dispute, with Rosco remaining on Modern while
Howlin' Wolf
went to Chess. Modern were slow in paying royalties, so Rosco cut some tracks for the new Duke label, releasing a Rosco track as their first single, but the Biharis grabbed Rosco back and the fledgeling Duke label was sold to
Don Robey
from Houston.
Rosco's laid back style on 'No More Doggin!' became a trademark;
In 1952, Rosco's next big record 'No More Doggin!' had a distinctive off-beat piano style that became known as 'The Rosco Shuffle', which became very influential in Jamaica through the seminal work of pianist Theophilus Beckford. A choppy rhythmic guitar, copying the piano figure, was a fundamental building block of Ska, Bluebeat and Reggae music, and Rosco's work is much revered in the Caribbean. 'No More Doggin!' went to No.2 in the R&B charts and although Rosco didn't have a string of major hits, he recorded a steady output in the 50s. Joining Sun Records in 1955, Rosco pounded out a series of rocking R&B tracks, and when he joined Vee-Jay in 1959 his first single for them got to No.2 again with 'Just a Little Bit', which also crossed over into the pop charts.
Rosco and the Red Tops play some rocking R&B for the white folks.
Only a short time later, Rosco moved to New York where he recorded a few tracks for Columbia which were never issued. He dropped out of the music scene to concentrate on his business, and only after the death of his wife in 1982, did Rosco begin to perform occasionally in New York. He gradually rebuilt his career by touring in Europe and he cut occasional recordings, for instance Rosco sang duets with Jane Powell and Martha Reeves for their albums. In 2000 Rosco cut a full album for the Stony Plain label with
Duke Robillard
, and in 2002 he took part in the documentary film 'The Road to Memphis', which was a tribute to Sam Phillips. Sadly, Rosco died from a heart attack in New York a few weeks later.