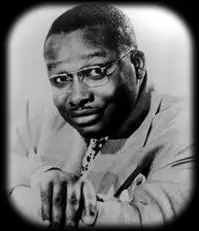 Joe Liggins took his record 'The Honeydripper' to the top of the R&B charts for a record 18 weeks in 1945, and when he named his band The Honeydrippers he kept them among the best sellers for ten years. Their infectious jump-Blues was fuelled by the optimistic post-WWII atmosphere of the day, where everybody seemed to want to dance, and bands like Joe's, Louis Jordan's Tympani Five, Tiny Bradshaw's Orchestra, Amos Milburn and the proto-Rock'n'Roll coming out of New Orleans dominated the juke-boxes, record sales and radio airplay of the day.
Joe Liggins was born in Guthrie OK in 1915, and he moved to the
West Coast
as a teenager. He studied piano and played in several bands around San Diego and LA before joining Sammy Franklin's Rhythm Rascals in 1939. After a while, Joe offered Sammy his instrumental composition 'The Honeydripper', but when he refused to record it, Joe left to form his own band. Teaming up with baritone sax player Little Willie Jackson, The Honeydrippers got a deal with the small Exclusive label. Their 1945 single dominated the charts that year and they scored nine chart hits in the next three years, including 'I've Got a Right to Cry', 'Tanya' and 'Roll 'Em'. Despite this, the Exclusive label folded and Joe switched to
Specialty
in 1949, where his kid brother Jimmy was regularly hitting the R&B charts with his rocking guitar records. Joe's 'Pink Champagne' topped the charts again in 1950, and further million selling singles followed, as Joe re-visited his back catalogue for the new label. Several of these featured Candy Rivers, a swinging gospel singer from Indianapolis.
The original 1945 version of 'The Honeydripper';
Joe's band were in huge demand as a live act and they toured with
Roy Brown
,
Wynonie Harris
and
Jimmy Witherspoon
, but by 1955 Rock'n'Roll was beginning to dominate the business. Joe continued to lead The Honeydrippers, playing their jump-Blues around the West Coast, and they enjoyed something of a revival in the 80s. Joe passed away in 1987, but Little Willie Jackson kept The Honeydrippers going until he expired in 2000.