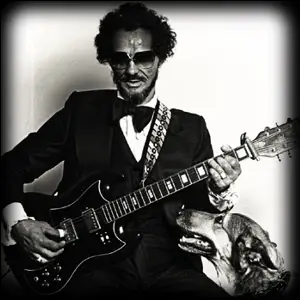 There is a long tradition of one-man-bands in the Blues. In 1924, the wandering songster Daddy Stovepipe was one of the first men to make a Blues record, and he usually managed to play three or four things at once. Joe Hill Louis continued the trend after WWII and Bluesmen like Dr. Ross, Jesse Fuller, Juke Boy Bonner and Driftin' Slim have all strapped on a neck-rack and found a drum to kick. 'Harmonica Frank' Floyd didn't even bother with that and sang out of the corner of his mouth while playing a harp that stuck out between his lips like a cigar. Blind Joe Hill almost managed to bring this fine tradition into the 21st Century with his enthusiastic style of Blues.
Joseph Hill was born in Dunbar, WV in 1937 but his family relocated to Akron, Ohio when he was just eight. In the mid-50s, Joe was smitten by the great music coming out of Chicago, especially the records of
Jimmy Reed
, so he learned some guitar and formed a band called The Hideaways. When he got tired of the stress caused by the other players turning up late, Joe decided to do it all himself. His harp playing was good enough to copy Jimmy Reed and he 'borrowed' some songs from
Big Bill Broonzy
and
John Lee Hooker
too, and became a popular club performer in the towns and cities of Ohio.
Blind Joe makes a TV appearance in 1985;
Joe had lost an eye in an accident when he was 17, so when glaucoma set in later, he became functionally blind. Joe went to Chicago, where he got some club gigs and a live spot on Big Bill Hill's radio show, and also played with the Southern Jubilees Gospel singers. In 1975, George Paulus recorded Joe in a Chicago studio and the results were issued by Barrelhouse Records as 'Boogie in the Dark'. Joe relocated to the West-coast in the early 80s where he cut some tracks with
George 'Harmonica' Smith
in 1982, and also appeared at the Long Beach Blues Festival. The following year Joe cut a new solo album for Bellaphon Records which, for the first time, had a lot of his own songs. Through the label's German connections, Joe was invited on the American Blues Festival's tour of Europe in 1985, and one of his songs was included in the live tour album.
Joe continued to play his unique and entertaining Blues around his Southern California home until he passed away in late 1998. As George Paulus put it, "Blind Joe plays honest Blues with his hands, his feet, his voice and his heart!" You can't ask a man more than that.