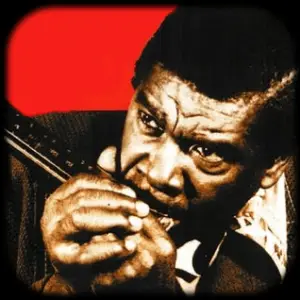 George was always a showman, and there are stories of him tap-dancing along the bar while playing his harp! As well as blowing his sparse, soulful solo lines he also exploited an 'octave' technique to expand the possibilities of the Blues harp, making it like sound like the horn parts in a swing band and combined with his strong baritone voice this made him a formidable performer. He was also a gentle and generous soul who helped a lot of young players along the way, and a protegé later commented that he never played a piece the same way twice.

Born by the Mississippi in Helena AK in 1924, George was taught harp by his mother and he started hoboing around the South as a teenager. He played in a country band called Early Woods and joined The Jackson Jubilee Singers for a while. Moving to Rock Island IL in 1941, George got a job at the local theatre and he dismantled an old 16mm projector, re-assembling the parts as an amplifier for his harp so he could sound louder when playing on the streets. He played with several local bands, including one with the young
 Otis Rush
, before making his way to 
Chicago
 around 1951 and a couple of years later he joined
Muddy Waters
' touring band. George was an innovative player in his own right, but he was hugely influenced by Chicago players like 
Little Walter
 and 
'Shakey' Horton
, so he fitted right in. In 1954 he was offered a residency at a Kansas City club, and there he was spotted by
Joe Bihari
, who signed him to the Modern label, where he was billed as Little George Smith, and his 'Telephone Blues' and ' Blues in the Dark' were minor hits. George then toured with 
'Champion Jack' Dupree
 and they recorded 'Sharp Harp' and 'Overhead Blues' in 1955. He then went on tour with
Little Willie John
and that gig ended in LA, which was the home-town of
Modern Records
, so George decided to stay there. He recorded some of his best material for the Modern label, with his distinctive deep voice and good ear for a tune, but he also recorded for other labels as The Harmonica King or Little Walter Junior.
George covers Little Walter's 'Juke';
George had a few months back with Muddy for a tour in 1966, and joined the band intermittently over the years. By the end of the decade, he had become a mainstay of the 
West Coast Blues
 scene, often playing with 
Big Mama Thornton
 and 
Pee-Wee Crayton
. He tutored the young
Rod Piazza
of The Dirty Blues Band, and they decided to pool their resources and hit the road as Bacon Fat, making up a dual 'harp-attack' style. They were together for several years before Rod put together a band with his wife Honey Alexander. Then in 1977, George took on another protegé,
William Clarke
, and they played together until George passed away on 1983.