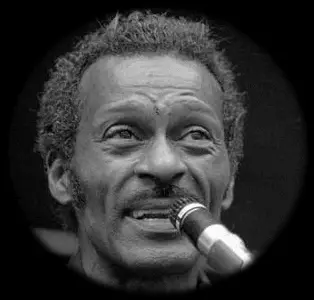 Chuck Berry is a pioneer of rock and roll, who crossed the colour line and showed that this powerful new blast of youth culture had its roots deep in black music.
His distinctive boogie-woogie flavoured double-string guitar riffs, charismatic 'duckwalking' stage act and witty lyrics showed young people all over the world that rock and roll music could open doors to an exciting future that their parents would never understand if they thought about it for a million years.

Charles Berry was born in St. Louis an 1926. He learned four-string guitar from jazz player Ira Harris, and in 1952 began playing with long-time collaborator
Johnnie Johnson
in The Sir John's Trio. Berry brought a taste of country music as well as blues to the group, which was arguably the first rock and roll band. In 1955 he moved to
Chicago
and asked his hero
Muddy Waters
how to get into recording. Muddy introduced him to
Leonard Chess
, and a few weeks later Chuck recorded his own uptempo 12-bar blues called 'Ida Red' for Chess. The title was changed to 'Maybelline' and the record went to No.1 in the R&B charts. White kids liked the sound of it too: soon it was No.5 in the pop charts and Chuck was selling more records than anyone else at Chess.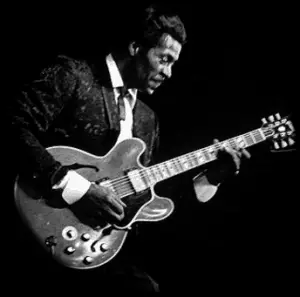 Chuck enjoyed some Golden Years at Chess, with massive hits like 'Roll Over Beethoven', 'School Day', 'Sweet Little Sixteen', 'Memphis Tennessee', 'Carol', 'Reelin' and Rockin' and of course 'Johnny B Goode'. In 1962 Chuck's career hit the buffers when he was jailed under the Mann Act. He had many encounters with the Law (he had served time for armed robbery when he was 18), but he always bounced back. When he was released the hits kept coming, with 'No Particular Place to Go', 'Nadine' and 'You Never Can Tell' among others, and Chuck opened his own racially integrated club in St. Louis, 'Berry's Club Bandstand'.

Chuck rocks out on 50s TV;
Chuck's career was given a huge boost when British acts like The Beatles and the Stones had hit singles with covers of Chuck's songs which gave him a global profile. He toured the world, acclaimed as a giant of Rock 'n' Roll. He recorded the album 'London Sessions' in 1972 with his younger admirers, and that year he scored his only No 1 pop hit with 'My Ding-a-ling', a ditty written decades before by New Orleans producer Dave Bartholemew. Chuck successfully sued The Beach boys when they stole every note of his 'Sweet Little Sixteen' and put it out as 'Surfin' USA'.
 Re-united in 1995, Chuck with Bruce and the E-Street band;

During the 70's and 80's Chuck toured the world with only his trusty Gibson ES335 for company. He would hire a local band, stride onto the stage completely unrehearsed and just 'let it happen'. This led to some chaotic shows. The Steve Miller Band and Bruce Springsteen both backed Chuck in their early careers. Bruce recalls that they didn't even get a set-list, but were expected to know all the songs and just follow his intro riff! Chuck expected to be paid in cash for his performance too, which led to further jail-time for tax evasion.
Despite his troubles with money and the Law, Chuck still has an appetite for work. He lives near St. Louis, and is still touring well into his 80's. He played at the White House for President Carter, was elected to both the Rock'n'Roll and Blues Halls of Fame, and there is a huge statue of Chuck in St. Louis. However his greatest accolade came in 1977 when the Voyager spacecraft was launched on its mission beyond the Solar system, and a recording of Chuck Berry singing 'Johnny B Goode' was included on 'The Golden Record' with Mozart and Stravinsky as examples of the finest of Earth's culture.
Now that IS a long way from St.Louis!