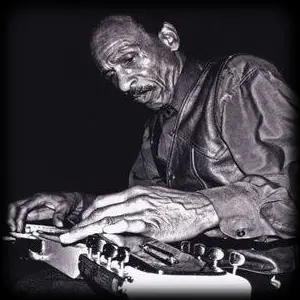 Freddie Roulette is one of the very few Blues musicians who has made the lap-steel guitar their instrument of choice. From his early classic albums with Earl Hooker and his work with some legendary Chicago characters, through an enduring friendship with Charlie Musselwhite to a long career on the West-coast, Freddie always brings a heart full of Blues to his virtuoso playing. His slide techniques and obscure tunings make his sound unique and impossible to replicate, and this master craftsman of the Blues continues to give his delicate touches to the music in his solo work and with his band Daphne Blue.
Born in 1939 in Evanston, Illinois to a family recently arrived from New Orleans, Frederick Martin Roulette learned to play the steel guitar in High-school. In the 50s, the sweeping sound of steel guitar was usually heard only in Country and Western music, but even as a teenager Freddie was attracted across town to play on
Chicago
's South-side Blues scene. In 1965, the supreme guitarist Earl Hooker formed a band with
Pinetop Perkins
on piano, the huge voice of
Andrew Odom
and
Carey Bell
on harp, and he invited Freddie to join them. Their album 'The Genius of Earl Hooker' came out in 1967 and the follow-up 'Two Bugs and a Roach', is acknowledged as one of the best Blues albums of the time. Sadly, Earl passed away early in 1970, but by then Freddie had also featured on Charlie Musselwhite's 'Chicago Blue Stars' album, which began their long friendship. Soon Freddie followed his friend in relocating to California, as part of
John Lee Hooker
's 'Coast to Coast Band', travelling in an old hearse with  John Lee's phone number painted on the side, alongside
Johnny 'Big Moose' Walker
! Freddie and Charlie played and recorded together many times over the years, with the 'Memphis Tennessee' album perhaps their finest partnership.
'Sweet Funky Steel' was Freddie's debut solo album in 1973, and it was produced by
Harvey Mandel
who also contributed his playing, alongside Don
'Sugarcane' Harris
. It was a solid piece of work, but wasn't a great commercial success, so Freddie settled into a full-time job outside music for a couple of decades, while playing with his own band around San Francisco, and guesting at other people's gigs. Teaming up with the 14-year-old slide-guitarist Ray Bronner, and some veterans from Chicago in the band Daphne Blue, Freddie was often joined by 'Big Moose', 'Pinetop' and
Clarence 'Gatemouth' Brown
at gigs and on record. He was then inspired to travel back to his birthplace to cut an album with big-voiced bassist
Willie Kent
and his Gents, which appeared as 'Back in Chicago, Jammin'...' in 1997. Blues Awards and invitations from many Festival organisers revitalised Freddie's career, and another album 'Spirit of Steel' was released in 1999, later joined by 'Man of Steel'.
Delicate and soulful steel-work on 'End of the Blues';
Freddie continued to play with the San Francisco based 'Daphne Blue', with Blue Ray Bronner and 'Little Wolf', they issued an album 'End of the Blues', following up with ''Black White and Blue' in 2007. Freddie also released an album, 'Daphne Blue: Legendary Blues Instrumentals' which contains 15 excellent tracks for an amazingly low price, which he considered to be among his finest works. These days, Freddie mainly played gigs and Festivals around California, and his solo album 'Jammin' with Friends', which came out in 2012, shows that his playing has lost none of its individualistic tone or lyricism.
Freddie died at his home in Vallejo, California on December 24th 2022.