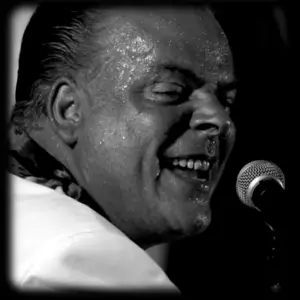 Boogie woogie piano is becoming something of a lost art, but the rollicking good-time music that came out  of New Orleans and the West-coast after WWII provided an important cultural springboard for young kids who wanted their own kind of music. The magic lives on however, as pianists like Jools Holland and Mike Sanchez keep the flame alive for new generations of Blues lovers.
Mike Sanchez was born in Hackney, London to Spanish parents in 1964. They moved to the West Midlands when Mike was 11, and he started learning guitar as a teenager, playing with local Rockabilly band The Rockets.
He then took up piano, developing a Blues'n'Boogie style, and when local man Robert Plant introduced him to Andy Silvester, who had been part of the original
British Blues
band
Chicken Shack
, the pair formed The Big Town Playboys in 1984. Their first album 'Making Waves' made an impact the following year and they signed to
Mike Vernon
's Blue Horizon label. An even bigger boost came in 1987 when
Eric Clapton
had The Playboys open a series of his shows at London's Albert Hall and they repeated the gig several times in the coming years as Eric's 'residency' there became an annual event. The band, featuring Mike on vocals and piano, played many Festivals in Britain and Europe, along with legends like
Lowell Fulson
and
Carey Bell
, but their more intimate club set was a joy for Blues fans. The Big Town Playboys toured The States several times in the late 80s and early 90s, and in 1993 made a Rockabilly album 'Crazy Legs' with
Jeff Beck
, featuring the songs made famous by Gene Vincent, and bringing their output to six albums.
Mike plays some Boogie-woogie on 'Down the Road Apiece';
When Mike left in 1999, The Playboys continued with singer Big Joe Louis, and they are still around today. A solo album 'Just a Game' had been released a couple of years earlier, and Mike set up his own Doopin Records to issue his own material, recorded by his 7-piece band with Andy Silvester on guitar, and introducing the talented Irish singer
Imelda May
to the club scene. Around the same time, Mike was asked to join Bill Wyman's Rhythm Kings, featuring
Andy Fairweather Low
, Eddie Floyd and Georgie Fame. They released three albums in the four years Mike was with them, and they later called him back to help open the show in December 2007 when Led Zeppelin played their historic London reunion gig. Mike also teamed up with Swedish outfit Knockout Greg and Blue Weather and came up with the 'Women and Cadillacs' album. This frenetic activity led to Mike being voted Best UK Keyboard Player four years running, but he also played some guitar in his live shows. For the rest of the decade Mike led his R&B band around the clubs and Festivals, and also performed with a four-piece boogie band called 'The Portions'.
In 2011, Mike cut back his commitments and took some time out to relocate to Spain to look after his ailing parents. Sadly, both have passed away but, encouraged perhaps by the birth of his son, Mike is back in the saddle. Doopin Records has recently issued an unreleased album he recorded with Imelda May in 2004, and his own new album 'Babes and Buicks'.