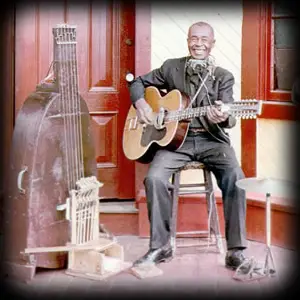 The Blues comes out of hardship, poverty, sour relationships and despair, but it's true power is its capacity to generate inner strength, resilience and resourcefulness. Jesse Fuller was an abandoned child and many of his songs give clues to a desperate early life, but he was a bright soul and his life is a parable of optimism and self-reliance. When he decided on a career in music, he worked as a one-man band, billed as 'The Lone Cat', touring the world, making many albums and writing a lot of good songs, but his unique contribution to the Blues is his self-designed 'fotdella' bass, which gave his records a strange beauty.
In 1896, Jesse was born in Jonesboro GA into a life of desperate poverty. His father disappeared early, and his mother left him on a farm as a small boy where he spent his time grazing cows. She died when he was seven and Jesse moved around various jobs including working at a barrel-making factory, a quarry and a lumber mill before joining a railroad gang where he entertained his workmates with a home-made guitar. He learned to sing in Church, and changed the words of many songs to make his own versions, and when he started to hang out in Atlanta with some guys who could really play the Blues, he started composing his own material. He had very wide tastes in music, and folk songs, ragtime ditties, show tunes, Spirituals and
Piedmont Blues
classics were just the start of Jesse's repertoire as he absorbed all the influences Atlanta had to offer. He married during WW1, but when he quarrelled with his wife, Jesse headed north and settled in Cincinnati. Soon the Hagenbeck Wallace Circus came to town, so Jesse joined up as a canvas-man and played his guitar as part of the entertainment. This awakened his love of travel and he spent several years as a hobo, 'riding the blinds' and filling his cap with coins when he played his guitar, and also picking up new material when he hit music hot-spots like
Memphis
, New Orleans
Chicago
and St. Louis.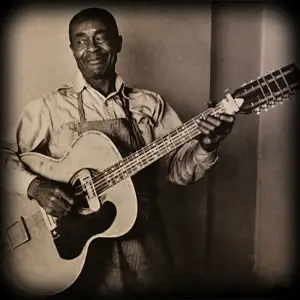 In the early 20s, Jesse showed up in Los Angeles, working in a barber-shop in Santa Monica and earning money by carving realistic wooden snakes! He got some work at United Artists Studio as an extra in silent films like 'The Thief of Baghdad', and befriended directors Douglas Fairbanks and Raoul Welsh who allowed him to open a hot-dog stand on the back lot. He sent for his wife to share this great life in The Sunshine State, but before long he ran away from her again, relocating to Oakland, where he worked for the railroad for a while, until his skills as a welder got him work in the shipyards all through WWII. After the War, Jesse ran a jack-hammer gang, but he had been playing music all the time, and he acquired a 12-string guitar. When Lead Belly came to town, Jesse supplied him with several bottles of gin and picked up some useful guitar lessons from 'The King of the 12-String'. There was a thriving Blues scene emerging on the West-coast after the War, with Lowell Fulson and producer Bob Giddins making some R&B chart-topping singles from their studio in Oakland. Jesse was very keen to get a band together, but he couldn't find reliable musicians to play with, so he decided he would have to play as a one-man-band. He set about constructing his 'fotdella', a toe-operated bass, welding his own cymbals for a high-hat, and making a neck-brace for harp, kazoo and microphone. Jesse's barrel-making skills allowed him to bend the wood to make a resonating box, which he fitted with six piano wires and six pedals with padded hammers on them to strike the strings to make his unique instrument. Thus equipped 'The Lone Cat' set out on his music career.
'The Lone Cat' doesn't need any help!
Jesse made his first recording for JR Fulbright in the early 50s, but his first commercial release was a session of six 'Railroad Songs' for the World Song label. In 1955 he cut his first full album, 'Frisco Bound', which was later re-released by
Arhoolie
, and over the next five years he recorded a lot of material for the Good Time Jazz label, including 'You're No Good' which was covered by the young Bob Dylan. Jesse's incredibly wide repertoire saw him record albums for the Prestige,
Folkways
, Fantasy and Good Time labels in the early 60s, and healthy record sales meant he was in great demand as a touring artist, playing the 1964 Newport Folk Festival and other prestigious concerts.
When he cut an album in London in 1966, it was on his third visit to Europe, and like many of his other records it included some fantastic storytelling between the tracks. Jesse didn't record much in the last ten years of his life, but his songs were covered by The Grateful Dead,
Hot Tuna
,
Janis Joplin
and
Eric Clapton
, so the royalty checks would have been welcome to a man in his 70s. He passed away in Oakland five weeks short of his 80
th
Birthday.