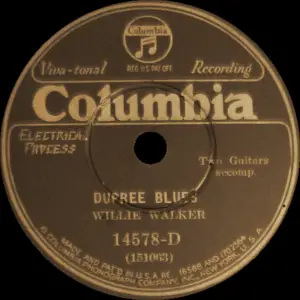 Piedmont Blues guitar style, with its jaunty folk and ragtime tunes and quick, elaborate fingerpicking formed the backbone of a lot of music that emerged in the late 20th century. Blind Blake and Blind Boy Fuller passed away before WWII but their legacy, and the playing of Blind Willie McTell, Rev. Gary Davis and Brownie McGhee, were certainly a big influence on the young players who were part of the Folk/Blues revival in the 50s. The fast and complex guitar style of Blind Blake is often cited as the 'gold standard' of Piedmont playing, but Willie Walker is thought by many to be his equal in technical skill, and his choice of unusual keys gives his work a unique quality.
Willie Walker was born blind, somewhere in rural South Carolina, in 1896. He relocated with his parents to Greenville when he was 16, and was soon playing with the Greenville String Band, where he may have played with the young Gary Davis. He also earned money by playing for tips on streetcorners, often accompanied by a 'lead-boy' who would lead him around, play tambourine and collect the coins.
Josh White
played that rôle for a while in the 20s, picking up some tips himself on how to play some spectacular Piedmont guitar. Willie had a complex and accurate technique, and Josh said "Blind Blake was fast, but Willie was like Art Tatum". He often played in the key of C, which gave his music a bright feeling, and it is a Greenville trait that was passed down to local men like
'Baby' Tate
and 'Baby' Brooks many years later.
Willie and Sam's version of the popular 'Dupree Blues';
In the late 20s, Josh had set out on his own career, and Willie was being led around by Sam Brooks (Baby's uncle), who also played 'second' guitar and sang backing vocals, often using a 'woman voice'. On December 6th 1930, Willie and Sam went to Atlanta where they cut four tracks for the visiting Columbia field unit. 'South Carolina Rag' and 'Dupree Blues' were issued the following spring, but record sales had fallen off a cliff during the economic depression, so 'Rider Blues' and 'Da Da Da' were never released. Willie went back to playing for tips, and, in 1933, he passed away from congenital syphilis, which was probably the cause of his infant blindness.