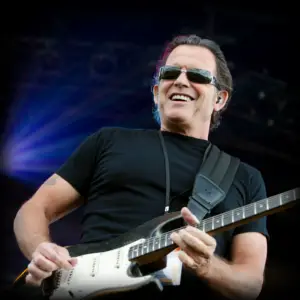 With a hat-full of Blues Music Awards and a dozen good-selling albums, Tommy Castro is a consummate modern Bluesman. He sings like a 60s Soul star, plays guitar riffs that would not be out of place in a 50s Chicago club, and he has taken those talents around the world. Tommy remains a modest character, who counts the blessings of being able to play the music he loves with people who love it too.
Tommy Castro was born in San José, California in 1955. He started playing guitar when he was ten, inspired by the 'blue-eyed Blues' of Eric Clapton, Elvin Bishop and Mike Bloomfield, but soon followed the trail back to Muddy, Buddy, B.B., Freddie and Elmore James.
This led to a period of Tommy learning his chops in a series of Bay Area Blues and Soul bands. Always a highly capable singer, Tommy loved the sound of James Brown and
Ray Charles
, and over a long career his vocals have kept that laid-back, soulful timing and tone. In the 80s, Tommy joined The Dynatones whose links with Warner Bros. meant they got to open tours for big acts like
Albert King
and Carla Thomas, and they also backed
Charlie Musselwhite
for a while. In 1991, Tommy started a band, and has been Captain of his own ship ever since, usually at the head of his preferred back-up of bass, drums and sax. In 1994, a live set was released on the Saloon label as 'No Foolin', and the guys got a high-profile gig as the house band on the Saturday night show 'Comedy Showcase' on network TV.
 Tommy giving it some West-side strut;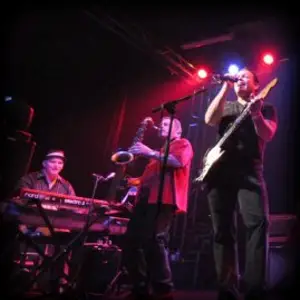 With a rapidly growing fan-base, Tommy soon had a deal with Blind Pig Records, releasing 'Exception to the Rule' in 1995 and issuing three more albums in the 90s.
In both 2001 and 2002, BB King invited Tommy's band to be the opening act on his annual tours, usually having him up on stage for the final number, a high accolade for any guitarist.
Concerts and Festival appearances have spread the word about Tommy's dynamic 'Blue-collar Blues' all over the world.
The new century also saw Tommy release six more albums before joining the Alligator label in 2009.
The album 'Hard Believer' was Tommy's most polished effort to date, with his own compositions balanced by covers of Allen Toussaint and Dylan songs and some classic Soul numbers.
 Tommy and the Painkillers recent show;
In 2011, Tommy fronted a live Alligator showcase album, 'The Legendary Rhythm and Blues Revue' with label mates
Joe Louis Walker
, Rick Estrin and many others. Twice recently Tommy has been made Honorary Captain of The Legendary Blues Cruise, has been at the centre of every voyage, and he is always keen to set sail. Meanwhile, Tommy's latest album 'The Devil You Know', which features his stripped down band The Painkillers, and has a guest appearances by
Joe Bonamassa
and
Marcia Ball
reached No.2 in the Billboard Blues Album chart. The band are always on the road, bringing Tommy's soulful Blues to the people .