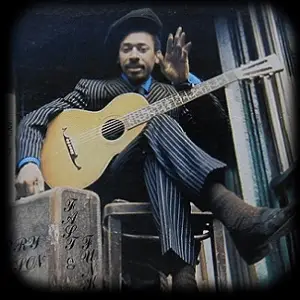 Larry Johnson is a Piedmont guitarist who incorporated many elements of Blues styles from all over the South into his playing. Learning from some of the old originators, Larry was a man out of time when the Blues went electric and his fine interpretations of country Blues classics have been largely overlooked.
Larry was born in Atlanta GA in 1938, and as a boy he would travel around with his father who was a preacher. The young man picked up a love of local
Piedmont
style Blues, especially the records of
Blind Boy Fuller
, and this encouraged him to take up guitar. Larry's influences include
Delta
and Texas elements, but the fingerpicking style of his home state is fundamental to his technique. After Military service in the late 50s, Larry settled in New York where he befriended The McGhee brothers,
Brownie
and 'Stick', and his tidy guitar work saw him play on records by
Guitar Slim
and
Big Joe Williams
. The
Rev Gary Davis
also showed an interest in the young man, and like
Jorma Kaukonen
and Stephan Grossman, Larry learned a lot from the old master. The Rev. Gary contended that "the hardest chords make the best musicians", and Larry incorporated much of Gary's complex chord structures into something he called 'stride guitar'.
Larry performs in the excellent 2003 documentary 'Lightnin' in a Bottle';
In 1962, Larry released his first single 'Catfish Blues' and was a regular companion to the Rev. Gary at his gigs throughout the 60s. By 1970, Larry's first album 'Country Blues' appeared on the Blue Horizon label, and in 1974 he put out a live album with John Hammond Jr.: 'Fast and Funky' saw the two men exploring some archaic material in a modern idiom and the album has been re-issued as 'Midnight Hour Blues'. Larry withdrew from recording and touring in the late 70s, and played only the occasional gig. Despite his obvious talent, there was not much opportunity for Larry: there were still a lot of original Blues players on the scene who had been 're-discovered' and Larry was perhaps too young to be considered authentic.
Larry released a couple of well received but slow-selling albums in the mid-80s, but by the 90s he began getting noticed in Europe. His albums 'Railroad Man' and 'Blues for Harlem' saw Larry gigging and touring regularly, and his collaboration with slide-guitarist Brian Kramer and his Couch Lizards resulted in the excellent 'Two Gun Green' album. Following years of ill health, Larry passed away at the age of 78 at his nursing home in New York. He was inducted into the New York Blues Hall Of Fame, May 2015