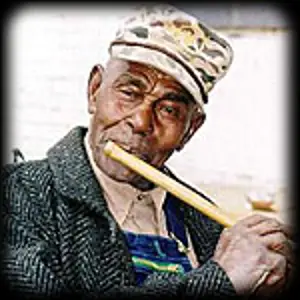 The hill country east of the Mississippi Delta is populated with small farms that have been home to the same families for many generations. It is also the source of some unique music that was only 'discovered' late in the 20th Century by Blues enthusiasts who went out to make field recordings of these remote traditional styles. Alan Lomax recorded Jessie Mae Hemphill's grandfather playing 'fife and drum' music in the 40s, and Alan also brought us the delicate guitar sound of Mississippi Fred McDowell from the same area in the 60s.
Dave Evans' University Music Department in
Memphis
brought us the juke-joint boogies of
RL Burnside
and Jessie Mae herself in the 80s and
Robert Palmer
's 1991 film 'Deep Blues' unearthed
Junior Kimbrough
just around the corner. However when a 90-year-old made a record in 1998, it shone a light on a distinctive musical tradition that links this land back beyond the
origins of The Blues
itself.
Otha Turner was born in Jackson County MS in 1907 into a poor sharecropping family. Working with his mother in the fields and helping to raise his siblings, music gave Otha a chance to express himself, first with slapping a tin tub, and then progressing to drums, but he found the instrument closest to his heart when he learned to make a cane-flute or 'fife'. The cane grew wild in the 'bottom-lands' and Otha was shown by an old man called RE Williams how to make finger-holes with a red-hot poker. He played the music he heard around him, which can be traced back well into the 19th Century. There are obvious links to African tunes and rhythms in the style, but it also sounds uncannily like Irish Folk music sometimes, and there are religious and spiritual elements in the mixture too. It was certainly a popular entertainment at parties, because Otha was able to save enough from what he got paid to buy the farm in Senatobia, just outside Como, where he lived his whole life with his wife 'Moochie'.
'My Babe' like you've never heard it, from Otha and 'The Afro-sippi All Stars'
The Rising Star Fife and Drum Band was Otha's long term vehicle, and they played their music at all kinds of events for more than six decades before any of it was committed to record. Otha would host a party each Labor Day where he cooked a goat and entertained his neighbours, so the album that appeared in 1998 was called 'Everybody Hollerin' Goat', and was literally a 'field recording' by producer Luther Dickinson. Otha was over 90 at the time, and Rising Star had his daughter Bernice and his grandchildren and nephews in the ranks. The following year, Luther teamed The Rising Stars with a collection of visiting Senegalese musicians to form 'The Afro-sippi All Stars', where fife and drum interacted with traditional African percussion and kora playing, and made fascinating connections between traditions from different continents and different centuries.
  Otha and Corey play 'Sittin' on Top of the World'
Accolades were showered on Otha and his family from The Smithsonian Institute and many Folk/Blues sources, and they performed several times at the New Orleans Heritage Festival, the Chicago Blues Festival and even re-created a traditional picnic on the stage of the Ryman Auditorium in Nashville. Otha and Rising Star appeared in Martin Scorsese's film series 'The Blues' in 2003, and his song 'Shimmy She Wobble' featured in Martin's 'Gangs of New York'. Otha was also set to record with Corey Harris for his album 'Mississippi to Mali', but sadly the 95-year-old passed away a week before the session was due to happen, and his place on the record was taken by his grand-daughter Shardé Thomas. In a double tragedy, Otha's daughter Bernice passed away from cancer on the same day he did, and Shardé led their joint funeral playing a fife, proving that a music so rich, powerful and beautiful will never die.