Pete Seeger was part of a politicised, multi-cultural music community in New York after WWII, that played a important rôle in the popular fight against injustice, not just in America, but all over the world. His live and recorded performances, his songwriting and his political activism made him famous and his collaborations with other musicians, notably with Piedmont Blues singers like Josh White and Sonny Terry & Brownie McGhee, won him deep respect.
Peter Seeger was the third son of Charles Seeger, a composer, ethnomusicologist and music professor who had set up the Music Dept. at U-Cal, Berkeley, and Constance, a violinist who later taught at The Julliard School. When his parents divorced, Pete's father married the composer Ruth Crawford, and had four more children. All the kids played folk music, and discovered that their housekeeper
Libba Cotten
was a virtuoso, if unconventional, guitar and banjo player, and Mike Seeger went on to launch her late career. Pete learned guitar and banjo as a kid and went to Folk clubs in Greenwich Village with his parents, before taking a job with
Alan Lomax
at the Library of Congress, where he worked on a treasure trove of original Folk and Blues recordings. He was married before being deployed overseas in WWII, and on his return he revived his group The Almanac Singers, which had temporarily disbanded during the hostilities, with Woodie Guthrie and Josh White as some-time members, and he also cut some tracks with
Big Bill Broonzy
for the Folkways label.
Pete leads the audience in 'We Shall Overcome';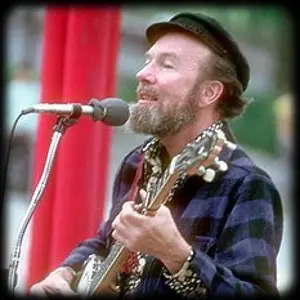 In 1950, his band morphed into The Weavers and almost immediately topped the singles charts with a version of Lead Belly's 'Goodnight Irene'. The Weavers got into political trouble in the McCarthy era, when their early 'protest songs' were seen as showing communist sympathies, but Pete's strong character led him to stand up to Congress over the accusations, and he resigned from the band when they agreed to record an advertising jingle for cigarettes. The banjo was Pete's favoured instrument in his solo career: he 'invented' a long-necked version and wrote an influential book of instruction, but he also used the 12-string guitar to good effect. Pete's powerful songs of changing times like 'Turn, Turn, Turn' and the anti-War number 'Where Have All the Flowers Gone?' were anthems of the early 60s protest movement. In 1963, the old spiritual 'We Shall Overcome', which Pete had first publicised in his magazine bulletin 'Sing Out' many years before, became the sound of the Civil Rights Movement. From the mid-60s, Pete hosted the network TV show 'Rainbow Quest', featuring Folk and Blues musicians like Mississippi John Hurt, Libba Cotten, Rev. Gary Davis and Sonny Terry & Brownie McGhee.
Pete and Doc Watson 'Walk that Lonesome Valley';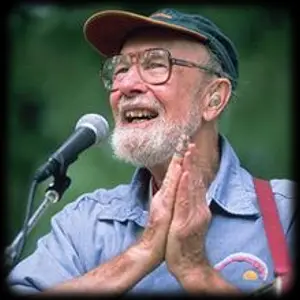 The Vietnam War and the destruction of the environment loomed large in Pete's recordings in the late 60s, and Peace, Freedom and Ecology had always been his major concerns. With a recorded output of almost 60 albums, Pete has left a legacy of outstanding music, not only based on his love of Americana, but with African, Caribbean and European influences too. The example Pete displayed to younger musicians like Bob Dylan, Bruce Springsteen and many more, was one of courage, determination and persistance. The 2007 documentary film of Pete's life was titled 'The Power of Music', and Pete's songs had the power to move the World.