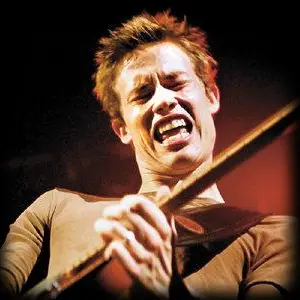 Many young guitarist love to play the Blues, but few do it with the passion and authenticity of Jonny Lang.
With a voice that sounded like a veteran when he was still of school age and a stinging solo guitar style that was straight out of Chicago, the kid made a big impact when first appeared and, having ridden some difficult times, looks set to grow his worldwide audience.
Jon Gordon Langseth was born in Fargo ND in 1981 and started playing guitar at an early age.
His Dad took him to see the local Bad Medicine Blues Band, and Jonny signed up for lessons from their guitarist Ted Lawson at the age of 12.
Jonny was soon fronting the band, now called The Big Bang, and the album 'Smokin' they cut for the Oarfin label in 1995, contained several of Jonny's songs and co-compositions.
A&M Records signed Jonny the following year and his 'Lie to Me' album of 1997 sold well, reaching No.44 in the Billboard chart, and the cover photo features Jonny's rare and treasured Fender Esquire guitar.
By this time, Jonny was becoming nationally recognised as a 'young gun' on the Blues scene, with a maturity beyond his years, and a voice that was at home with soul and rock songs, as well as the 'West-side' Chicago Blues of his friend Luther Allison.
Jonny's 1998 album, 'Wander this World' featured Luther's song 'Cherry Red Wine' as a tribute to the then recently departed guitarist.
Jonny plays pianist Bruce McCabe's 'Rack 'Em Up' at the Montreux Festival in 1999;
'Wander this World' brought big sales, a Grammy nomination and a big public profile for the 17-year-old.
He played the part of a janitor in the huge film Blues Brothers 2000, performed for President Clinton at The White House, and played and co-wrote a song on fellow-prodigy Shannon Curfman's album 'Loud Guitars, Big Suspicions'.
Not surprisingly, the alcohol and drugs around this high-pressure media environment started to take a toll on the young man at the centre of all the attention, but Jonny had a 'Damascene conversion' and his new-found faith helped him to get straight.
He married actress Hayley Johnson in 2001, and they have settled in California and started a family.
Jonny's 2003 album 'Long Time Comin' was his first studio work in five years, and it reflected his new priorities, making No.17 on the Billboard charts.
The following year Jonny played at Eric Clapton's Crossroads Festival in Dallas in aid of Eric's drug rehabilitation centre.
Recommended Album
Funky rockin' Blues from the 17-year-old Jonny, which owes a lot to Clapton, and Albert Collins as well as his friend Luther Allison, whose 'Cherry Red Wine' closes the album.
Jonny began touring more, adding to his travels in the company of The Rolling Stones, BB King, Aerosmith, Buddy Guy and Jeff Beck.
The 'Turn Around' album released in 2006 won a Grammy for Best Gospel/Rock album, but Jonny's next effort was released on his own label. 'Live at the Ryman', recorded at the spiritual home of the Grand Ol' Opry in Nashville, and made a powerful statement of Jonny's credentials as a Gospel/Blues/Rock performer: a 2010 appearance at The Crossroads Festival re-enforced his 'West-side' influences too.
Jonny continued touring, and appeared on the acclaimed 'Experience Hendrix Tour', as many renowned players pay homage to Jimi. Jonny's album 'Fight for My Soul' was released in late 2013 and the soulful R&B on those 11 tracks sound like the 'boy wonder' has found the voice of a man who knows where he stands.
On January 12th 2021 all confirmed concert concert dates were cancelled until further notice due to a medical issue affecting Lang's vocals which makes him unable to perform live.
A Quitter Never Wins from the Direct TV concert filmed at Moondance Jam 2010