Texas has played an important rôle in the story of the Blues, with old timers like Blind Lemon Jefferson, innovators like T-Bone Walker, stars of the Blues Revival like Lightnin' Hopkins and modern guitar heroes like Johnny Winter and Stevie Ray Vaughan. A young man who has absorbed some of the magic of his Lone-Star fore-runners, Gary Clark Jr. is relentlessly taking the music forward, whether fronting a band with a flashy Hendrix style, or standing alone with his guitar, pouring his heart into his passionate songs.
Born in 1984 and raised in Austin Texas, Gary showed an early interest in the guitar, playing in bands while still at school in Oak Hill.
Clifford Antone
asked him to play at a talent contest at his famous club, where Gary and a local girl Eve Monsees nailed it when they duetted on 'Pride and Joy'. When Chicago harp legend
James Cotton
heard Gary play, he said "It caught my ear right away …. he was really playing the Blues." Eager to extend his style, Gary studied the delicate picking of Lightnin' Hopkins, the slide work of
Elmore James
, and hung out at Antone's talking to old-school visiting Bluesmen like
Howlin' Wolf
's guitarist
Hubert Sumlin
and his 'cousin' and Austin resident
WC Clark
. After school, Gary turned down a scholarship at University of Texas to take his band on the road with
Jimmie Vaughan
. Gary's first album was the self-released 'Tribute' in 2005, with songs from
Jimmy Reed
, Lightnin' Hopkins,
Fats Domino
,
Robert Petway
and
Albert King
. The young man was so well versed in the music of his historical idols, he was spoken of as 'the Future of the Blues'.
 Gary's 'Shotgun Man' from Worry No More;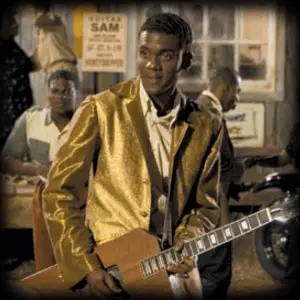 In 2007, Gary appeared in John Sayles juke-joint film 'The Honeydripper' playing a hot-shot young Bluesman, and the following year he signed for Hotwire Records. Two self-produced albums, '110' and 'Worry No More' were full of Gary's new songs, almost all with a nod in the direction of someone like
Chuck Berry
or T-Bone Walker, put together with a skill that gave the impression of an old head on young shoulders. Sadly, these albums didn't sell well enough to trouble the charts, and Gary's real break came when
Eric Clapton
asked him to play at his 2010 Crossroads Guitar Festival. A storming performance with Doyle Bramall II (son of Stevie Ray's late drummer) made sure he was invited back in 2013. The 'Bright Lights' EP in 2011 got sales, airplay and wide recognition, so Gary was in great demand for gigs and Festival appearances. In February 2012 he played the White House, at the 'Red, White and Blues' show where
Buddy Guy
persuaded the President to sing 'Sweet Home Chicago'.
 Powerful stuff on BBC's 'Later …. with Jools';
When the 'Blak & Blu' album appeared, it went to No.6 in the Billboard Blues Album charts and gained Gary a worldwide reputation. He relocated to New York to live with his girlfriend, the model Nicole Trufino, and opened the
Rolling Stones
50
th
Anniversary Tour at Madison Sq. Gardens, then shared the stage with them at a gig in Boston where they played
Freddie King
's 'Goin' Down'. Gary toured the world in 2013 and played Glastonbury Festival, as did The Stones, and while he was across the pond, Gary played on BBC's 'Later … with
Jools' Holland
, gaining hoardes of new fans. The song 'Please Come Home' from the 'Blak & Blu' album won Gary a Grammy in 2014, and if Gary really is 'the Future of the Blues', then it's in for an exciting time.