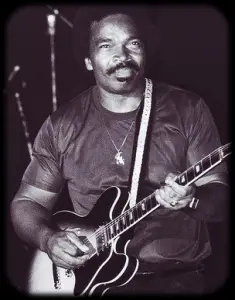 One of the most respected side-men on the Chicago Blues scene, Matt Murphy is universally acclaimed for his sharp, eloquent guitar lines that seem to say 'Amen' to every tune they attend. He has played with some of the seminal figures of the Blues and added high quality to their work in every instance, in constant demand in the studio, touring the world stage, and even becoming a movie-star!
Born in Sunflower MS in 1929, Matt's family moved to Memphis when he was a child and, with his guitar playing brother Floyd, found a place in the Beale Street scene.
Matt played in Howlin' Wolf's band in 1948 and then teamed up with Junior Parker, appearing on his hits 'Mystery Train' and 'Feelin' Good' for Sam Phillips' Sun Records. He also recorded with Bobby 'Blue' Bland on the Modern label before setting out for Chicago in 1952. He was quickly picked up by Memphis Slim and was part of his band for two decades, contributing his intelligent and dynamic guitar work behind Slim's piano, perhaps best illustrated on the 1959 album 'At the Gate of the Horn'. Chess also used Matt as a first-call session man and his graceful touches can be heard behind Chuck Berry, Otis Rush, Sonny Boy II and Etta James.
A generation of guitarists were inspired by this playing;
Matt and Slim were part of the triumphant Blues Festival tour of Europe in 1963, where he dazzled the crowds with 'Matt's Guitar Boogie'. When Slim decided to stay in Paris, the second half of their musical partnership became a long-distance affair, but back in Chicago Matt took up with James Cotton, and the '100% Cotton' album shows how they sparked off each other. Matt played the part of Aretha Franklin's guitar-playing husband in the film 'The Blues Brothers', which raised his public profile, and a long spell of touring and recording with Ackroyd and Belushi raised it further.
Some fine laid back Blues;
In 1985, Matt recorded a live album with Memphis Slim at Antone's Club in Austin Texas, and used the same venue to record with James Cotton two years later. Finally, in 1990, Matt put together his own band with his brother Floyd. They recorded 'Way Down South' for Antone's Records with both brothers sharing the writing credits. Always welcome at Clubs, Festivals and in the studio, Matt continued to play, despite suffering a stroke in 2003. He made an emotional return to Chicago to share the stage with James Cotton at the 2010 Blues Festival. He moved to Florida,  and in 2011 married Kathy Hemrick and  recorded his final album Last Call, in 2012 he was inducted into the Blues Hall Of Fame. He died on June 15, 2018.