Sam Myers was born in Mississippi and learned his trade in Chicago, working for many years with Elmore James, but after a long spell on the 'chitlin circuit', he gained a whole new career as the front man for Anson Funderburgh and the Rockets. Sam was a big-voiced singer, a sparkling harp soloist and talented songwriter, composing dozens of great songs.
Samuel Joseph Myers was born in 1936 in Laurel MS, in the south of the Delta and by the age of seven, cataracts had rendered him functionally blind. He was recognised as a musically talented kid at school in Jackson, and won a scholarship to the American Conservatory in Chicago to study trumpet and drums.
In the evenings, Sam would haunt the Southside Blues clubs, where he befriended and sat in with
Muddy
,
Wolf
and many more. From 1953, young Sam was the regular drummer in Elmore James's band, and featured on several famous
Chess
recordings before returning to Jackson in 1956. Sam cut many solo tracks back in Mississippi, singing in his full-throated voice and playing harp in the style of his Chicago mentors
Little Walter
and
James Cotton
. Sam's own composition 'Sleeping in the Ground' was a regional hit, and this great song was covered in later years by many artists, notably
Eric Clapton
and
Robert Cray
. Sam continued to play with Elmore occasionally, contributing some memorable harp solos to a brilliant 1961 session for the Fire label in New Orleans.
Sam in a laid-back studio session.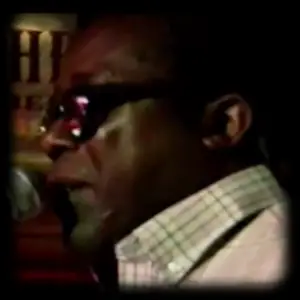 During the 60s and 70s, Sam led his own band on the Southern club scene known as 'the chitlin' circuit', and in the early 80s he toured the world as part of 'The Mississippi All-Stars' with
Queen Sylvia Embrey
. In 1986, having just completed a short tour with
Robert Jr. Lockwood
, Sam was invited to join Anson Funderburg's band The Rockets. Anson's front-foot blues guitar licks and swinging rhythm section proved to be the perfect foil for Sam's booming vocals and sparkling harp lines. They recorded a long series of excellent albums for the Black Top label in a partnership that was to last for twenty years. As well as the studio albums, their electrifying performances were captured in several great live sets. Anson and The Rockets won nine Blues Music Awards over the years and, in 2005, Sam's solo album 'From the Old School' was nominated as Best Traditional Blues Album. Sam undertook a tour of Europe with the Swedish band Bloosblasters, but was already suffering from the onset of throat cancer. He passed away the following year as the result of complications during surgery.