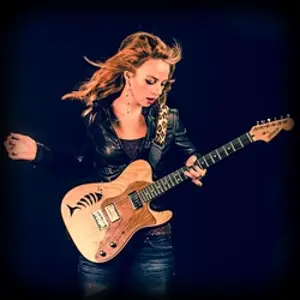 The Blues used to be dominated by 'old/dead black guys', but if you look around the scene today, there are an awful lot of 'young blonde women', which says a lot for how our music has broadened its appeal.
Susan Tedeschi, Anna Popovic, Shannon Curfman and Joanne Shaw Taylor are being followed by younger Blues players like Chantel McGregor, Jo Harman, Dani Wilde and Samantha Fish and who knows how many more.
These last two went on tour together a few years ago to great acclaim, and both have gone on to solo careers, with many Festival spots and prestigious gigs coming their way.
In the mid-noughties, fifteen-year old Samantha started playing acoustic guitar in her bedroom and sneaking into Blues clubs in her native Kansas City to indulge her taste for the music of bands like The Stones and the Black Crowes.
Her musical explorations led her back from The Stones and Stevie Ray Vaughan to earlier masters like Freddie King right back to Delta Blues originators like Son House and Charley Patton.
Pretty soon she was leading her own band at Knuckleheads Club in town, and that brought her to the attention of Thomas Ruf of Ruf Records.
He was putting together the 'Girls with Guitars' package that burst onto the scene in 2011, with a hit album of that name and the Blues Caravan tour that took them round The States and Europe, including sharing a Festival stage with Johnny Winter.
With Dani Wilde on guitar, Cassie Taylor on bass, and drummer Jamie Little, Samantha took the same crew into the studio to record her own album 'Runaway'.
She wrote all but one of the songs on the record that got her the Blues Music Award for Best Debut Artist in 2012, and she was thrilled to be asked to open for Buddy Guy at his Legends Club.
Samantha plays 'Lay it Down' from her album 'Black Wind Howlin';
A heavy schedule of club dates and Festival appearances spread the word about Samantha's talents among fans on both sides of the Atlantic.
One of Samantha's early heroes, Mike Zito of The Royal Southern Brotherhood, had produced 'Runaway' and when the time came for Samantha's next album, 'Black Wind Howlin', he contributed his slide-guitar and production skills as well as the services of drummer Yonrico Scott and bassist Charlie Wooton from The Brotherhood, along with guest harp player Johnny Sansone.
Again Samantha wrote most of the songs, which range from hard rockers to just a girl and her acoustic guitar pouring out her soul, and she also manages to capture a glimpse of life on the road in 'Miles to Go'.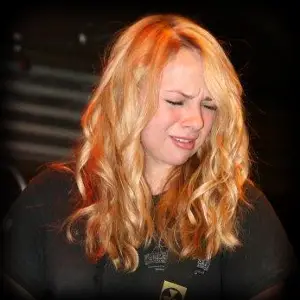 Fish's third studio album, Wild Heart, was released on July 10, 2015. The new album is more roots rock than her earlier blues rock. Fish wrote five songs on the record. She co-wrote five other songs with Jim McCormick in Nashville, Tennessee. Luther Dickinson produced the album, as well as played various stringed instruments (guitar, bass, mandolin, lap steel) to flesh out the sound.
The third album, Wild Heart was more roots rock than her earlier bluesy sound. five songs were written by Fish, with co-writing credit for others too! This time around Luther Dickinson produced the record and played guitar in addition to bass.
When Fish's forth solo album, Chills & Fever was released in March 2017 it quickly became a hit. The Detroit-based recording sessions for this latest effort took place with members of the band "The Cobra" which also produced 2017's Belle Of The West along side producer Bobby Harlow.
In December 2021 she followed up with Kill Or Be Kind where listeners were treated to yet another classic bluesy soundscape.
The latest album from Samantha Fish, Faster is a passionate blues record that combines lush harmonies and rhythms with an outside-the box perspective, all within tight vocal range for maximum effect.
There is going to be a lot more of that as she tours to publicise the album, and a dozen Festival dates are already in the diary for this year. You shouldn't miss the chance to experience this fine artist, with a big future in front of her.