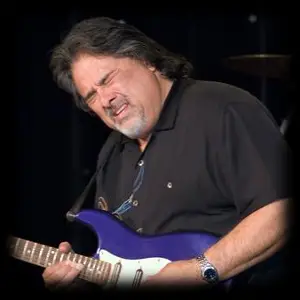 Coco Montoya plays guitar left-handed and 'upside down' like Albert King, the man whose records first turned him on to the Blues, but it was a different Albert who took the kid under his wing and showed him how to put his deep emotions into his playing. A long career was to follow, firstly in a legendary band and then as a leader in his own right, as Coco's effortless technique and strong, committed vocals make him a modern master of The Blues.
Born in Santa Monica CA in 1951, Henry Montoya started out playing drums with local rock bands in the mid-70s. He was asked, at the last minute, by a bar-owner friend to 'sit in' with
Albert Collins
at his gig, and 'The Iceman' later hired him for a tour. Taking up the boss's own guitar, Coco learned to play the Blues under the guidance of 'The Master of the Telecaster', who told him, "Don't be half-steppin' when you come up to play", and Coco's apprenticeship lasted over five years in Albert's band. By then Coco's talents as a guitarist were in high demand, and he played with many bands around California. One night at a club gig, he noticed
John Mayall
in the audience and dedicated a tune to him: John returned the compliment by hiring Coco for a re-vitalised version of his band The Bluesbreakers. Twinned with guitarist
Walter Trout
, this new incarnation of John's band was perhaps the most powerful since the days of
Eric Clapton
,
Peter Green
or Mick Taylor. The 1985 album 'Behind the Iron Curtain' was recorded live in Hungary, and marked Mayall's resurgence as part of the 'Blues Boom' that brought
Stevie Ray Vaughan
,
Robert Cray
, Coco's mentor Albert and many others to the world stage.
Coco pays tribute to his mentor with a superb slow Blues;
Coco played on three studio albums and stayed ten years with The Bluesbreakers, before signing as a solo artist for Blind Pig Records in 1995. His debut album had guest spots from his mentors John and Albert as well as Al Kooper's keyboards and drums from Richie Hayward of Little Feat. Two more fine albums followed, before Coco switched to the
Alligator
label in 2000, where his confidence as a songwriter, singer and leader came to the fore. Since then, five original albums, constant touring all over the world, countless guest spots and many Festival appearances have made Coco Montoya a considerable force in modern Blues music.