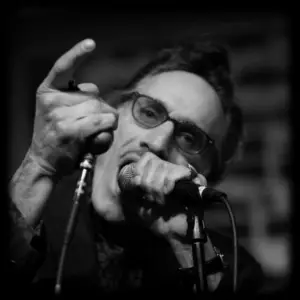 The Blues has got to make you smile once in a while, even if it is just to keep from cryin', but a night out with Little Charlie and the Nightcats is the kind of stimulant that cures most ills, and the medicine has been available for almost forty years. The main ingredient is Rick Estrin, whose charismatic vocal act, wild harp playing and considerable songwriting talents made the Nightcats such a tonic. When 'Little Charlie' Baty retired, The Nightcats became Rick's band, and when he puts on his zoot suit, you'd better be ready to party.
Rick was born on San Francisco CA in 1949, and as a teenager he would hang out in clubs where he caught all the touring Blues artists. By the time Rick was 18, his harp skills had developed to the point where he 'sat in' with the great
West-coast
Bluesman
Lowell Fulson
, and he was encouraged to make a move to Chicago. He picked up gigs with solid club acts like
Johnny Littlejohn
and
Eddie 'Playboy' Taylor
, and even shared a stage with
Muddy Waters
. While still in his mid-20s, Rick returned to his hometown and teamed up with Charlie Baty, whose sharp-edged guitar work was the perfect foil for Rick's honking harp and witty songs. Together they formed Little Charlie and the Nightcats, based in Sacramento and gained a reputation for high-energy Blues.
The Nightcats had been gigging for almost ten years, and Rick had developed some flashy, juke-joint harp tricks, when a demo tape found it's way to Alligator Records, which resulted in their first album 'All the Way Crazy'. This drew national and international attention, and the band brought a breath of fresh air to the Blues Festival circuit, making converts wherever they played. The albums 'Disturbing the Peace', 'The Big Break' and their show 'Captured Live' were full of Rick's clever songs, delivered in his wry, sardonic tones. Some of those songs were covered by artists like Robert Cray and Koko Taylor, and 'My Next Ex-wife' won a WC Handy Blues Award in 1993. The whole band backed John Hammond Jr. on his album 'Long as I Have You'.
Not easy to capture The Nightcats in one song, so here is a whole concert where they're in fine form;
The personnel of The Nightcats changed many times over the band's long history, but the partnership of Rick, Charlie and Alligator Records was a constant. This came to an end when Charlie retired, so 'Rick Estrin and the Nightcats' released their 2009 album 'Twisted' with a new guitarist, and the long-time frontman got his name on the marquee. A couple more Alligator albums and a lot more riotous gigs have followed and the madness seems bound to continue.