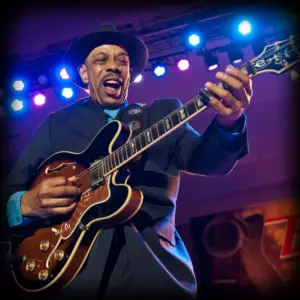 The story of the Blues might be summed up by the tale of a kid who sits twanging a 'diddley bow' in some rural Delta backwater, who fulfils his dreams by moving to the big city and playing alongside the biggest Blues Legends. Surprisingly, there are still one or two of these characters around, and there is no finer example than John Primer, who came from just those origins to lead Muddy Waters' Band and play on the world stage with the finest musicians Chicago has produced. John went on to establish a considerable solo career with a long string of Festival appearances and over a dozen albums .
John Primer was born in Camden MS in 1945, and when he was 8 he made his first 'diddley bow' with two nails and a wire on the side of the house. His first singing appearance was with the local Baptist Church choir, but the music of
Jimmy Reed
, Muddy,
Elmore
,
BB
and
Albert King
on the radio was John's real inspiration. At the age of 18 he headed for Chicago and was soon playing guitar in West-side clubs and leading his band The Maintainers as the Blues emerged as a force in mainstream American music, with Chicago at its epicentre. In 1974, John got a gig in the house-band at Theresa's Lounge where he played with
Buddy Guy
,
Junior Wells
, Lonnie Brooks and many more.
Willie Dixon
soon spotted John's talents and recruited him to his Chicago All-Stars, where he played 'second' guitar, contributed his frenetic slide work and sang with power and conviction as they toured The States and Europe. After a year or so, Muddy came calling and John spent the next few years leading the band, usually opening the show before the Master took the stage. He was also part of the memorable jam-session at The Checkerboard Lounge when several of
The Rolling Stones
joined Muddy onstage, resulting in a spectacular live album, and later a DVD.
John plays some Mississippi-style slide with a great band, featuring harp player Matthew Skoller:
John had been leading the house-band at The Checkerboard Lounge for some time, and when Muddy sadly left us in '83, John joined up with
Magic Slim
and his Teardrops, where he stayed for 14 years. John's work with Slim gave him many recording opportunities, but he set out on his own in 1992 when Earwig Records released his first solo album 'Stuff You Gotta Watch'. Three years later
Mike Vernon
produced 'The Real Deal' which gained a major release on Warners, and featured a long time collaborator, the harp-player
Billy Branch
. Since then John has been a stalwart of the Chicago scene, toured widely in The States and overseas, appeared at countless Festivals, released a dozen albums, and in 2008 set up his own label, Blues House Productions. With over half a century of Blues-craft behind him, John has earned his title of Living Legend, along with many other awards, as the kid from rural Mississippi continues to make his mark in the city.