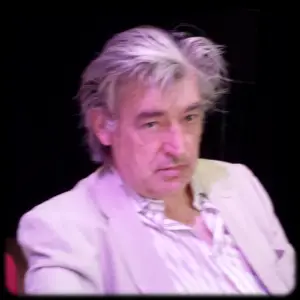 Guitarist Chris Spedding is not weighed down by fame, but if you consider his work over the last 50 years, he has made a subtle contribution to many aspects of modern musical history. He has played with old Bluesmen; up-and-coming Punks; massively popular kids' comedy bands; he toured with Rock icons; appeared in big musical extravaganzas and he was the go-to guitarist for many Superstars making their blockbuster albums. He can play just about any kind of style, as is shown by his long career in The States as a session musician, working in Jazz, Blues, Pop, Rockabilly, and everything in between. Anything with guitar on it, Chris has done it!
Born in 1944 and brought up in Sheffield and Birmingham, England, Chris was sent to violin lessons as a kid, but was so desperate to play guitar he made his own! When he finally got a 'real' one, he formed a band, The Vulcans to play Eddie Cochran-style rock, and as soon as school was over he went to London. A recording debut came in 1962, playing jazz guitar with vibes-player Frank Ricotti, then Chris took a residency on an ocean liner on the Australia route. Back in London, his versatile guitar style started getting him session work, and he also recalls playing with
Rice 'Sonny Boy II' Miller
in Chris's hometown of Sheffield. In 1967 Chris joined Pete Brown's Battered Ornaments, a rather chaotic band, and when Pete started writing for
Jack Bruce
's solo albums 'Songs for a Tailor' and 'Harmony Row', Chris was their choice of guitarist. Chris and Jack were also founder members of jazz-rock band Nucleus, with Ian Carr and the cream of the London scene, but Chris was always in demand for sessions, contributing to big albums by Elton John and Harry Nilsson. Along with
Peter Green
, Chris played on
Memphis Slim
's 'Blue Memphis' album in 1969.
A dozen guitar styles get a workout on Chris's trademark 'Guitar Jamboree';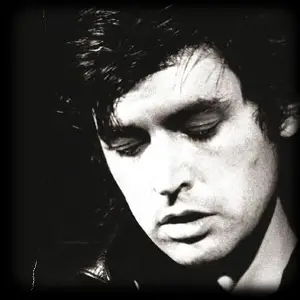 When Nucleus had run its course, Chris formed Sharks with Andy Fraser from Free and singer Steve 'Snips' Parsons to play rock music. During their busy touring schedule, Steve picked up a Gibson Flying-V in
Memphis
, and this was his signature instrument for many years. In 1974, Chris was asked to audition for
The Stones
, but he was busy touring and recording with John Cale, Roy Harper and many others. A solo project in 1975 led to a hit UK single, 'Motorbikin', and the album had an amusing pastiche 'Guitar Jamboree' in the style of
Albert King
,
Chuck Berry
, Duane Eddie etc. Session work with Bryan Ferry in 1976 led to a lot of touring and recording work with Bryan and Roxy over the next three decades, but Chris also produced demo tapes for The Sex Pistols and helped them get a record deal. Continuing the Punk theme, Chris toured and recorded with The Vibrators, and they returned the compliment on Chris's 'Pogo Dancing'.
Nice solo with Robert Gordon on 'Summertime Blues';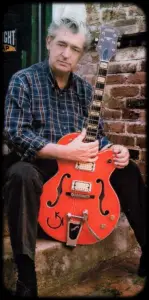 Changing tack completely, Chris played on Jeff Wayne's concept album 'War of the Worlds', and has performed at all its live performances, then moved to New York, where he took over
Link Wray
's place in Robert Gordon's Rockabilly band. Combining R&B with a measure of Scotty Moore style, Chris began a long association with Robert, while still making solo albums and session music. Relocating to LA in 1993, Chris was always busy as a studio and touring sideman with people like Tom Waits, Paul McCartney and Joan Armatrading, and his own album 'One Step Ahead of the Blues' in 2002 had covers of
JJ Cale
and
Mose Allison
songs. More recently, Chris has moved back to England, where his biography 'Reluctant Guitar Hero' was followed by albums 'Click Clack' (the title track taken from a Captain Beefheart number) 'Now or Never' and 'Pearls'.
Recent projects like King Mob, a band including Martin Chambers of The Pretenders and Glen Matlock from The Sex Pistols; Presence, a looser collaboration with much the same personnel; and also touring the world with Roxy, all serve to keep Chris busy. If you're lucky you can also catch him with veteran bassist Herbie Flowers at an informal 'Sunday Breakfast' in the elegant Regency setting of Brighton's Dome!