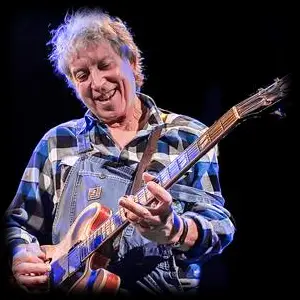 The Blues got a big new audience in the 60s when white kids discovered the power of this fantastically expressive music, which they took up enthusiastically and turned into a cultural phenomenon. The British Blues Boom, and bands like The Stones and The Animals took the world by storm, but in The States some youngsters had first hand access to the real thing, in Blues clubs in the African-American communities of Chicago, Texas, the West-coast and other urban locations. The Butterfield Blues Band was in the front line of this mission to bring The Blues into the mainstream, and founding guitarist Elvin Bishop brought the band experience beyond his years as they crossed the race-line with their groundbreaking music.
Elvin Bishop was born in 1942 in Glendale CA, but brought up in the farming country of Iowa and Oklahoma. He heard the occasional R&B song on the radio, but he came face to face with hard-edged urban Blues when he enrolled to study Physics at the Univerity of Chicago in 1959. The Hyde Park campus was near the South-side, and when Elvin befriended harp player
Paul Butterfield
they would hang around the clubs there. Elvin took up guitar and was lucky to get some tips from
Howlin' Wolf
's side-man,
Little Smokey Smothers
, who became a life-long friend, and the kid got good enough to sit in with
Buddy Guy
and
Otis Rush
. In 1963, Paul, Elvin and
Mike Bloomfield
formed The Butterfield Blues Band, and signed up Wolf's rhythm section, Jerome Arnold and Sam Lay to make their big-selling self-named first album. Mike split for the West-coast soon after, leaving Elvin to take lead guitar duties on several more albums including 'The Resurrection of Pigboy Crabshaw', which was a reference to Elvin's rural upbringing.
'Red Dog Speaks', so you better listen!
In 1968, Elvin relocated to San Francisco where he signed for Bill Graham's Fillmore stable, and played with BB King, Eric Clapton and Jimi Hendrix at the boss's venue in town. Elvin later moved to Epic Records and in 1976 had a No.3 single in the Hot 100 with 'Fooled Around and Fell in Love'. He maintained a healthy annual output of albums and a busy international touring schedule throughout the 70s, but a few slow years in the 80s came to an end when he signed for Alligator Records. The 'Big Fun' album in 1988 was the first of five great records where Elvin showed his considerable guitar chops, his maturing vocal style and his growing command of songwriting.
Elvin suffered a devastating personal setback in 2000, when his daughter and ex-wife were murdered in an extortion plot gone wrong. This tragedy took Elvin out of circulation for a good while, and his 2005 album was titled 'Getting My Groove Back', mixing some angry, bitter Blues with more up-tempo material. The follow-up, 'The Blues Rolls On' had guest spots from
BB King
,
James Cotton
,
George Thorogood
,
Derek Trucks
and many more. Elvin also released the 'Chicago Blues Buddies' album with his old mentor Little Smokey Smothers. Elvin continues to work, playing concerts, Festivals and Blues Cruises, and releasing his thoughtful albums, playing his signature guitar, the 'Red Dog' Gibson ES that has been his constant companion for almost half a century.