That big, howling 'Mississippi Sax' sound conveys the heart and soul of The Blues like nothing else, and it is in good hands with younger players like Sugar Blue, who invokes the spirit of the great Blues harp players like Little Walter and Rice 'Sonny Boy II' Miller in his work. Sugar's spectacular runs and riffs have featured on many globally huge records for The Rolling Stones, and his solo albums reveal his seductive, soulful voice on his own songs, as well as some pretty sweet Blues harp playing.
James Whiting was born in New York City in 1949, the son of a singer and dancer who regularly played The Apollo. Brought up in Harlem surrounded by music, James was given a harp when he was 10, and moved on from copying Stevie Wonder to studying the
Chicago
Blues harp masters. This skill got him session work with
Victoria Spivey
and
Roosevelt Sykes
, and he played on
Johnny Shines
' 1975 album, 'Too Wet to Plow' credited as Sugar Blue. Roosevelt told him about gigging opportunities in Europe, so Sugar relocated to Paris in 1976, playing club gigs and on streetcorners, and his talent for improvising got him invited him to sit in with jazz players of the calibre of Stan Getz. Some of the results were released as 'Kingdom Jazz', a live album recorded at the Casino in Cannes. He was also recruited by The Stones to play on their 'Some Girls' album, and the worldwide hit single 'Miss You' featured Sugar's up-front harp riff. Sugar toured the world with The Stones and played on their next two albums.
Spectacular harp riffs as Sugar plays a London club date with Louisiana Red;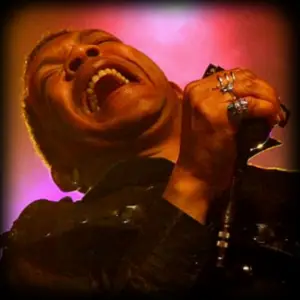 This connection helped Sugar to develop his solo career, with his albums 'Crossroads' and 'From Chicago to Paris'. Louisiana Red was also based in Paris, and they recorded two albums together, 'Red, Funk and Blue', and 'King Bee'. After a third album with Red, Sugar relocated to Chicago, where he sat in with harp legends like James Cotton, Shakey Horton and Junior Wells. He joined Willie Dixon's Blues All-Stars, which gave him worldwide exposure at gigs and Festivals, and their 'Blues Explosion' album recorded live at Montreux, won a Grammy in 1984, repeating the trick with 'Hidden Charms' in 1988. Sugar then toured the world again with The Stones' Steel Wheels extravaganza, and recorded a live solo album in Japan. Sugar's playing had been honed to a fine edge by this point, and his sweet voice made him a formidable performer. He signed for Alligator Records and released two excellent albums with them in the mid-90s.
Sugar plays a recent gig;
For the next ten years, Sugar continued to play gigs and Festivals around the world, appeared in film and TV productions, played on many other people's albums, and his recording silence was broken in 2007 with the album 'Code Blue'. He played at President Obama's first inauguration, and the following year, issued another studio album, 'Threshold'. His latest release is a live double CD 'Raw Sugar' where he rocks out with some of the musicians that have backed him for almost two decades. In a career that has lasted 40 years, he has not been the most prolific recording artist, but if you look at his body of work, Sugar Blue has been sprinkled over our music for a long time.